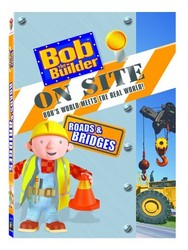 Los Angeles, CA (PRWEB) January 16, 2008
Take a front-seat tour of giant trucks and huge machines building roads and bridges when Bob the Builder and the Can-Do Crew visit real-life construction sites for the first time ever. "Bob the Builder On-Site Roads & Bridges" hauls onto DVD February 5, 2008 from Twentieth Century Fox Home Entertainment and HIT Entertainment for a suggested retail price of $19.98.
Bob and his team take young viewers on an exciting behind-the-scenes look at how the impressive machines do their big jobs. Bob fans will meet a real-life Scoop, Muck, Dizzy, Roley and more, and see how these machines help construct actual roads and bridges. Eye-catching foil and embossed packaging with a book-flap cover captures the excitement and fascination children have with big rigs and their awesome power.
Bob the Builder On-Site Roads & Bridges Fast Facts:

Street Date: February 5, 2008
DVD SRP: $19.98 (U.S.), $18.98 (Canada)
DVD Running Time: 60 minutes
Bob the Builder On-Site Roads & Bridges Synopsis:
For the first time ever, join Bob the Builder and his Can-Do Crew as they explore real life construction sites. See giant diggers, mixers and trucks work together to build super roads and massive bridges. From digging the first hole to building a foundation and then laying the final asphalt cover, Bob the Builder teaches budding engineers how the process is done. Learn about the three types of bridges: support, arch and suspension. Then follow the steps and build your very own road or bridge, just like the pros! Sing-along with the catchy "How Do You Do It" song and see how new friends Flex, Bristle, Packer, Dodger and Tumbler help to demonstrate how roads and bridges are built.
About HIT Entertainment
HIT Entertainment, owned by private equity investment group Apax Partners, is one of the world's leading independent children's entertainment producers and rights-owners. HIT's portfolio includes properties, such as Barney™, Bob the Builder™, Thomas & Friends™, Pingu™, Fireman Sam™, Angelina Ballerina™ and Rainbow Magic™. HIT represents Fifi and the Flowertots™ in North America and Japan and acts as a worldwide representative for The Jim Henson Company's library of classic family brands and as representative for The Wiggles® in the UK. HIT also owns the Guinness World Records™ publishing and television property. Launched in 1989, HIT's lines of business span television and video production (including studios in the US and the UK), publishing, consumer products licensing and live events. With a catalogue of more than 1,000 hours of young children's programming, HIT sells its shows to more than 240 countries worldwide, in more than 40 different languages and has operations in the UK, US, Canada, Hong Kong and Japan. In 2005, the Company joined Comcast Corporation, PBS and Sesame Workshop to launch PBS KIDS SproutSM, a 24-hour digital cable channel and VOD service for preschoolers. In 2007, HIT and Chellomedia, the European content division of Liberty Global, Inc and its subsidiary ChelloZone, announced a joint venture to launch and distribute JimJam, an international preschool TV channel (excludes the US, UK and China).
About Twentieth Century Fox Home Entertainment
A recognized global industry leader, Twentieth Century Fox Home Entertainment LLC (TCFHE) is the worldwide marketing, sales and distributioncompany for all Fox film and television programming on VHS, DVD and Blu-ray Disc (BD) as well as acquisitions and original productions. The company also releases all products around the globe for MGM Home Entertainment. Each year TCFHE introduces hundreds of new and newly enhanced products, which it services to retail outlets -- from mass merchants and warehouse clubs to specialty stores and e-commerce - throughout the world. Twentieth Century Fox Home Entertainment LLC is a subsidiary of Twentieth Century Fox Film Corporation, a News Corporation company.
###