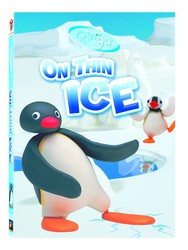 Los Angeles, CA (PRWEB) January 15, 2008
You've marched with some. Surfed with others. Danced with a few and their very happy feet. But you've never met a cooler penguin than Pingu, the internationally beloved animated character breaking the ice in North America with the all-new DVD release, "Pingu: On Thin Ice," gliding into stores Jan. 29, 2008 from Twentieth Century Fox Home Entertainment and HIT Entertainment.
Created by Swiss animators Otmar Gitman and Harold Muecke, Pingu is a charming, cheeky young penguin who connects with kids of all ages and has a knack for mischief and a flair for flippered fun. Pingu spends his days playing with family and friends, including his best friend Robby, his dad (whom he helps at the post office), his sister, his mother and his grandfather. Like any growing penguin, Pingu has a healthy appetite guzzling fish whenever he can find them.
Young viewers will love Pingu's hilarious antics, despite the fact that the only language spoken is the quick-tongued, gibberish-like "Penguinese." Whether he's exploring ice caves or playing fish tennis, looking after his sister or just hanging out on the snowy banks of his Antarctic home, hearts young and old will warm up to this delightfully quirky and loveably unique friend.
Pingu is currently seen in more than 155 countries, including the US on PBS KIDS SproutSM. The show has received numerous awards and honors including The Best Animated Short at BAMKids Film Festival in the U.S., a Finalist Certificate at the New York Film Festival, and the Audience Award at the New York Intl. Children's Film Festival among many others.
Eight delightful stories on Pingu: On Thin Ice include:

Pingu & the Snowball
Pingu & Pinga Go Camping
Stinky Pingu
Pingu's Ice Sculptures
Pingu's Balancing Act
Pinga Has Hiccups
Pingu Gets Lost
Robby the Snowboarder
Pingu: On Thin Ice Bonus Feature:

Pingu: On Thin Ice Fast Facts:

Street date: Jan. 29, 2008
DVD SRP: $14.98/ $15.98 Canada
DVD R/T: 54 minutes
About HIT Entertainment
HIT Entertainment, owned by private equity investment group Apax Partners, is one of the world's leading independent children's entertainment producers and rights-owners. HIT's portfolio includes properties, such as Barney™, Bob the Builder™, Thomas & Friends™, Pingu™, Fireman Sam™, Angelina Ballerina™ and Rainbow Magic™. HIT represents Fifi and the Flowertots™ in North America and Japan and acts as a worldwide representative for The Jim Henson Company's library of classic family brands and as representative for The Wiggles® in the UK. HIT also owns the Guinness World Records™ publishing and television property. Launched in 1989, HIT's lines of business span television and video production (including studios in the US and the UK), publishing, consumer products licensing and live events. With a catalogue of more than 1,000 hours of young children's programming, HIT sells its shows to more than 240 countries worldwide, in more than 40 different languages and has operations in the UK, US, Canada, Hong Kong and Japan. In 2005, the Company joined Comcast Corporation, PBS and Sesame Workshop to launch PBS KIDS SproutSM, a 24-hour digital cable channel and VOD service for preschoolers. In 2007, HIT and Chellomedia, the European content division of Liberty Global, Inc and its subsidiary ChelloZone, announced a joint venture to launch and distribute JimJam, an international preschool TV channel (excludes the US, UK and China).
About Twentieth Century Fox Home Entertainment:
A recognized global industry leader, Twentieth Century Fox Home Entertainment LLC is the worldwide marketing, sales and distribution company for all Fox film and television programming on VHS and DVD as well as video acquisitions and original productions. Each year the Company introduces hundreds of new and newly enhanced products, which it services to retail outlets -- from mass merchants and warehouse clubs to specialty stores and e-commerce -- throughout the world. Twentieth Century Fox Home Entertainment LLC is a subsidiary of Twentieth Century Fox Film Corporation, a News Corporation company.
http://www.hitentertainment.com
# # #