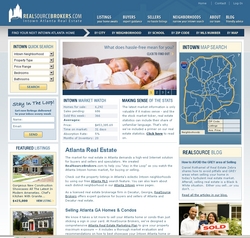 The flow of ideas and collaboration between myself and their design, programming, and copy writing departments worked really well
Atlanta, GA (PRWEB) January 7, 2008
An Atlanta real estate website is breaking new ground in home search technology. Realsourcebrokers.com is the first website to combine automatic market research with home for sale listings, in a new feature called Market Watch. The search tool provides buyers and sellers with a snapshot of market conditions for their search category. Realsourcebrokers.com also has an attractive custom re-design to go with Market Watch, as well as exciting new content for buyers, sellers and investors. The re-developed website looks and performs unlike any other in the region.
"This is the best real estate website in Atlanta," says website owner Joshua Keen, an Atlanta real estate agent and broker. It's not hard to believe Keen, with most other local real estate websites still featuring templated designs and home searches.
Keen says Market Watch is his favorite new feature on RealSourceBrokers.com. The tool uses data from the First Multiple Listings Service (FMLS), Atlanta's largest database of homes for sale, to provide information for every type of search. For example, users looking at commercial property in East Lake will see the latest market stats for those properties only. Market Watch provides the FMLS numbers on total properties for sale, sales pending, and properties sold this week. It also calculates averages for price, time properties spend on the market, absorption rate, and months of available inventory.
"It's like the stock market ticker tape for real estate," says Keen. "This information really helps buyers and sellers get a sense of the market right away."
The property search is an advanced market comparison tool for Intown Atlanta, an area made up of about 50 neighborhoods inside the I-285 highway loop. Buyers can browse listings six different ways: by city, neighborhood, zip code, school area, MLS number, and map. Advanced search options include price range, property type, and property features, such as number of bathrooms and number of bedrooms.
"I like how we were able to break up the MLS data to focus on Intown real estate," says Keen.
Keen spent months working closely with his web development company, Real Estate Webmasters.
"The flow of ideas and collaboration between myself and their design, programming, and copy writing departments worked really well," he says, adding "I also spent a lot of time on my own browsing other real estate websites and marketing sites, trying to come up with something unique."
The finished product is "a complete re-branding of my company and business," says Keen. The new home page greets users with a variety of graphical features, and a new company logo. Users can also click links on the top banner to read new buyer and seller information for the Atlanta real estate market. Keen is confident the new website will be worth every effort.
"I look at it as an investment in my business. The web has always played a huge role in what I do as a Realtor."
RealSourceBrokers.com will also feature new sections for real estate investors and new home builders in 2008.
For more information visit http://www.realsourcebrokers.com , or contact Atlanta Realtor ® Joshua Keen at 404-270-9374.
###