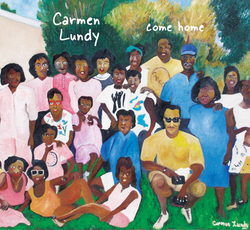 Catch Carmen. In a world of pretenders, she's a genuine jazz singer.
Los Angeles, CA (PRWEB) January 7, 2008
One of music's most distinctive voices returns January 29 with a remarkable new CD. Carmen Lundy, renowned for her extraordinary vocal prowess and songwriting skill, is back with her 10th release -- Come Home, from Afrasia Productions.
The culmination of her 30-year career, Come Home is Lundy's emotional tribute to her hometown of Miami, where her large and extended family still resides. All the paintings on the CD are Lundy originals, and "Family Portrait", which graces the cover of the CD, beautifully and eloquently speaks to the honesty, harmony and strength of family. On this album, Lundy paints sonic portraits with the kind of brushstrokes that can only be felt from the inside out.
Recorded by top engineer Joe Ferla (whose work includes John Mayer, David Sanborn, Bill Frissell, Betty Carter and many others), Come Home features the extraordinary talents of pianist Geri Allen, who joined Lundy's stellar band (Anthony Wonsey on piano, brother Curtis Lundy on bass, Jason Evan Brown on drums, Mayra Casales on percussion, Lage Lund on guitar) for the sessions.
Says Lundy, "Making this record was about finding my own voice. Not a jazz voice, but a universal voice. I found my voice and I've accomplished everything I've ever wanted to musically, on Come Home."
Come Home will be available January 29 at http://www.carmenlundy.com , Lundy's MySpace site (http://www.myspace.com/carmenlundy), Amazon.com and all major digital download sites (including itunes.com, rhapsody.com and barnesandnoble.com) Carmen Lundy's catalog can also be found at top music retailers throughout North America.
About Carmen Lundy
Acclaimed singer, composer, painter and actress, Carmen Lundy continues to amaze. Jazz Times said it best in their 2006 profile:
Carmen Lundy, as beautiful inside as out, has accomplished the near impossible for a jazz singer by maintaining a solid, successful, three-decade career while focusing largely on original, self-penned material.
Her versatility and vocal range has led to comparisons with such diverse and brilliant singers as Aretha Franklin, Sarah Vaughan, Betty Carter, and Ella Fitzgerald. Stretching out beyond the studio and concert stage, Lundy has played the lead role in Duke Ellington's Sophisticated Lady stage production, and portrayed Billie Holiday in Lawrence Holder's off-Broadway production They Were All Gardenias.
Top jazz critics around the globe have lauded her work. Here's a small sampling:
"An authentic jazz singer. She's got it all." -- Gary Giddins, The Village Voice
"Catch Carmen. In a world of pretenders, she's a genuine jazz singer." -- Jack Massarik, London Evening Standard
"Lundy's performance was the product of talent that has ripened fully. Her far-ranging, fluidly mobile voice roved through and around the melodies, and her innate sense of theatricality illuminated every layer of drama in her story-driven songs." -- Don Heckman, Los Angeles Times
"Listening to Carmen Lundy 'live' on Jazz and the New Songbook: Live at the Madrid is truly a remarkable experience and solidifies the adage that she is in a class all her own…a great mix of ballads, straight-ahead jazz, Latin, fusion and funk that showcases Carmen Lundy's amazing voice and compositional integrity. Highly recommended." -- Allmusic.com 4 ½ star review
# # #