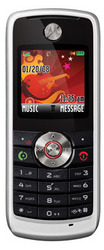 These new phones offer design elements, music features and outstanding battery life that consumers don't expect to find at this price point
Las Vegas, NV (PRWEB) January 7, 2008
Motorola, Inc. today showcased dependable communication and great music at an excellent value with the introduction of two new W series GSM cell phones at the 2008 International Consumer Electronics Show (Booth #8545, Central Hall).
"These new phones offer design elements, music features and outstanding battery life that consumers don't expect to find at this price point," said Stu Reed, president, Motorola Mobile Devices. "Whether buying your first phone or trying out a music phone for the first time, these new models from Motorola are the perfect choice."
Motorola W230 and W270
The W230 and W270 include features that go beyond mobile phone basics with multiple ways to enjoy music and stay connected. A dedicated music key activates an integrated digital audio player which supports MP3 and other popular formats. Favorite songs can be stored using optional microSD removable memory cards up to 2GB in size.
In addition, users have access to free music and news through an FM radio with integrated Radio Data System (RDS) which displays artist, title and type of song playing on the radio. Users can also record FM radio clips to use for the phone's alarm, share favorite stations with friends through text messaging¹ and listen via headphones or speaker.
Both devices offer great phone capabilities in addition to music features, including Motorola CrystalTalk™ technology that helps reduce background noise. Up to nine hours of talk time², the capacity to store up to 500 text messages and phone contacts, one click access to create text messages and the ability to access the Web, create a well-rounded feature set at a great value.
The W230 harmonizes value and style with an eye-catching, slim candybar design. The device is available in two interchangeable faceplate color palettes: licorice/silver, and titanium gray/mandarin. The no-nonsense keypad and large color display are easy to use, while a slim design makes it extremely pocket-portable. The W270 provides another design option for consumers by incorporating the same features of the W230 in a sleek and affordable clam-shell design.
Availability
The W230 and W270 handsets are expected to become available in Q1 2008. For more information, please visit http://www.motorola.com/mediacenter.
About Motorola
Motorola is known around the world for innovation and leadership in wireless and broadband communications. Inspired by our vision of seamless mobility, the people of Motorola are committed to helping you connect simply and seamlessly to the people, information, and entertainment that you want and need. We do this by designing and delivering "must have" products, "must do" experiences and powerful networks -- along with a full complement of support services. A Fortune 100 company with global presence and impact, Motorola had sales of US $42.8 billion in 2006. For more information about our company, our people and our innovations, please visit http://www.motorola.com.
Certain features may not be activated by your service provider, and/or their network settings may limit the feature's functionality. Additionally, certain features may require a subscription. Contact your service provider for details. All features, functionality and other product specifications are subject to change without notice or obligation.
¹ Network and/or SIM card dependent feature, not available in all areas. Airtime, data charges, and/or additional charges may apply.
² All talk and standby times are quoted in digital mode, and are approximate. Battery performance depends on network configuration, signal strength, operating temperature, features selected, and voice, data and other application usage patterns.
MOTOROLA and the Stylized M Logo are registered in the US Patent & Trademark Office. The Bluetooth trademarks are owned by their proprietor and used by Motorola, Inc. under license. All other product or service names are the property of their respective owners. © Motorola, Inc. 2008. All rights reserved.
###