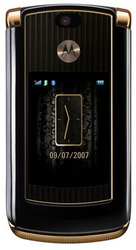 MOTORAZR2 V8 Luxury Edition is an indulgent phone, designed for those that seek eye-catching design and cutting-edge technology
Las Vegas (PRWEB) January 7, 2008
The ultimate glamorous phone is now available in the U.S. Motorola, Inc. today announced that MOTORAZR2 V8 Luxury Edition is available in the U.S. exclusively through MOTO STORE. Featuring the signature MOTORAZR2 form factor with gold-plated accents (on medallions, navigation key and hinge) and embossed in a snakeskin-like texture, this sleek beauty is available unlocked for GSM networks.
"MOTORAZR2 V8 Luxury Edition is an indulgent phone, designed for those that seek eye-catching design and cutting-edge technology," said Pete Peterson, general manager, global ecommerce, Motorola Mobile Devices. "This phone is the pinnacle of fashion - a full suite of capabilities for messaging¹, music and Web browsing¹, wrapped up in an elegant design that will make others green with envy."
The ultra-slim MOTORAZR2 V8 Luxury Edition features elegant 18K gold-plated accents that highlight the luminous black slate vacuum-metal finish. A soft-touch back, embossed with a snakeskin-like texture, feels good in the hand, while subtle details, such as elegant pin stripes on the front lens, an engraved diamond-cut pattern on the sideband and linear etching on the navigation wheel look stunning.
The decadent cell phone provides users with an array of innovative, in-demand features. Without even opening the flip, users can read and respond to texts on the large, color external display, which also boasts touch-sensitive music controls, picture caller ID1and self-portrait camera display 1. Motorola's patented CrystalTalkTM technology helps enable clear calls by automatically accounting for background noise and adjusting the audio. Jet-setters will appreciate the device's quad-band technology to stay connected while traveling the globe³.
Surf the Web¹ on MOTORAZR2 V8 Luxury Edition easily and intuitively with Opera Mobile Browser 8.5. Capture every glamorous moment in high-resolution with a 2.0 megapixel camera with 8x digital zoom and up to 2 hours of video capture and playback. Enjoy the latest music with up to 2GB of on-board storage4 for up to 1,000 songs5, a powerhouse processor for lightening-fast over-the-air downloads¹ and compatibility with Windows Media® Player 11 on the PC, enabling access to over 200 online music stores.
This luxury edition MOTORAZR2 V8 comes with the perfect accessory - a compatible black slate Motorola H680 Bluetooth® Headset with 18k gold plated accents on the ring around the power button. The stylish H680 keeps the conversation going with up to 8 hours of crisp, clear talk time and 8 days of standby time.6 To complete this stylish mobile experience, a stereo headset for music enjoyment, patent leather carrying case with mini strap and a polishing cloth are also included in-box.
Pricing and Availability
The RAZR2 V8 Luxury Edition is now available exclusively through MotoStore for $679.99. The device will be sold unlocked and is compatible with any existing GSM service.
Editors Note: For high-resolution images and additional information, please visit: http://www.motorola.com/mediacenter.
About MOTO STORE Online
MOTO STORE, is the source for authentic Motorola products, including the widest selection available of Motorola phones, accessories, bundles and exclusive offers. Shoppers can choose from phones that are unlocked, unactivated or come with carrier service plans.
About Motorola
Motorola is known around the world for innovation and leadership in wireless and broadband communications. Inspired by our vision of seamless mobility, the people of Motorola are committed to helping you connect simply and seamlessly to the people, information and entertainment that you want and need. We do this by designing and delivering "must have" products, "must do" experiences and powerful networks -- along with a full complement of support services. A Fortune 100 company with global presence and impact, Motorola had sales of US $42.8 billion in 2006. For more information about our company, our people and our innovations, please visit http://www.motorola.com.
Certain mobile phone features may not be activated by your service provider, and/or their network settings may limit the feature's functionality. Contact your service provider for details. All features, functionality and other product specifications are subject to change without notice or obligation.
1 Network and/or SIM card dependent feature, not available in all areas. Airtime, data charges, and/or additional charges may apply.
³ Operates in many major cities and countries where GSM network coverage and roaming agreements are present
4 Available user memory varies due to the configuration of the phone, which varies by service provider.
5 Based on 4 minutes per song at a data rate of 128Kbps. Storage capacity is approximate and subject to available memory space and encoding method used; actual capacity varies by content.
6 All talk and standby times are quoted in Digital Mode, and are approximate. Battery performance depends on network configuration, signal strength, operating temperature, features selected, and voice, data and other application usage patterns.
MOTOROLA and the Stylized M Logo are registered in the US Patent & Trademark Office. The Bluetooth trademarks are owned by their proprietor and used by Motorola, Inc. under license. Windows Media is a registered trademark of Microsoft Corporation in the United States. All other product or service names are the property of their respective owners. © Motorola, Inc. 2008. All rights reserved.
# # #