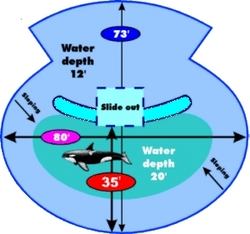 No one has the right to deprive any innocent living creature from their freedom
North Hollywood, CA (PRWEB) January 9, 2008
Lolita the orca whale, kept in a substandard tank at the Miami Seaquarium for the past 37 years, has recently gained some powerful friends dedicated to her release into retirement. The Earth Organization (TEO), an international, non-profit dedicated to finding effective solutions to environmental and conservation issues, announced today that they have joined forces with the Orca Network and a wide variety of concerned celebrities to help find a reasonable solution to what some conservationists describe as a travesty of inhumanity.
Philanthropist and actor Raul Julia-Levy recently teamed with Howard Garrett and Susan Berta of the Orca Network who have lead the campaign for Lolita's release. "No one has the right to deprive any innocent living creature from their freedom," said Julia-Levy. "It's time for Lolita to go home."
They are joined by an ever-increasing list of concerned celebrities, among them Harrison Ford, Johnny Depp, Lindsay Lohan, Jean Claude Van Damme, Robert Downey Jr., Bob Barker, Jonathan Silverman, Jennifer Finnigan, Bokeem Woodbine, Esai Morales and Truth Hurts. Also supporting Lolita's release are prominent producers Ed Elbert and Jonathan Sanger.
"Our first concern when Raul contacted us was whether or not Lolita could safely be released into retirement after so many years in confinement in a tank that is not as deep as she is long," said Barbara Wiseman, TEO's International President. Having consulted with Executive Director and research biologist for the Center for Whale Research Kenneth Balcomb III, as well as Howard Garrett, Executive Director of the Orca Network, Wiseman said "We now feel confident that this is not only possible, but should be accomplished immediately." Of the 134 orca worldwide taken from the wild, 112 have died in captivity, with the average lifespan in captivity being less than 10 years. Lolita was captured when she was about 5 years old. Wild orcas live to an average of 50 years with a few having reached over 90. "It is astonishing that she has lived as long as she has under these conditions," stated Garrett. "She deserves to live out her remaining years with her family."
Lawrence Anthony, world-renowned conservationist and founder of TEO, best known for his amazing act of courage in rescuing and protecting the animals of the Baghdad Zoo for the first 5 ½ months of the Iraqi war, stated "Lolita has demonstrated that she recognizes her mother's unique vocal sounds. The Orca Network's plan is compelling and well-thought out to ensure her successful re-assimilation into her native habitat. The only humane thing to do is now free her."
Celebrities are taking a strong stand on the emotional issue. In an interview yesterday Jean Claude Van Damme vowed, "We are not going to stop this campaign until we see the results. And the result we're looking for is to free Lolita."
Actor, producer and activist Esai Morales stated "I believe the salvation, protection and care of other sentient beings brings us much closer to our own humanity. Orcas are fascinating. We can not take these majestic creatures for granted or exploitation." He went on to say, "What has Lolita done to deserve this? She has served her time. It's time for her to go free."
For further information contact:
The Orca Network:
360-678-3451
http://www.orcanetwork.org
Barbara Wiseman
The Earth Organization
http://www.earthorganization.org
818 769-3410
###