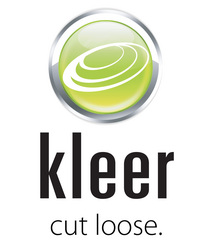 Kleer's interoperability strategy and associated plan to facilitate a wireless audio ecosystem are important elements in our evaluation of their wireless audio technology
Cupertino, CA (PRWEB) January 8, 2008
Kleer™ today announced that numerous leading brand-name consumer electronics manufacturers, representing a cross-section of portable audio market segments, have announced support for the Kleer wireless audio protocol. Endorsement comes from a broad cross-section of industry players, including Sennheiser, AKG, RCA, Pioneer, Ultimate Ears, Global Icons, iSkin, Cresyn, DigiFi, Foster, Fujikon, Kaga Components and Yusan. All products based on the Kleer protocol will be certified by the Kleer interoperability test procedure and will carry the Kleer logo on packaging.
"Wireless audio is a greenfield application in the MP3 player market - no technology to date has come close to meeting either the low power or high quality requirements of the space," states Levent Gun, President and CEO of Kleer. "Today the industry is proclaiming that Kleer meets these requirements, and a new era of portable audio products begins."
"Sound quality is a fundamental issue for us," claims Stijn Jans, Managing Director of Sennheiser Consumer Electronics, Singapore branch. "Kleer's uncompressed transmission enabled Sennheiser to bring true wireless earbuds to market that have that signature Sennheiser sound. This is a product our customer base is eagerly expecting, and a product not viable with any other wireless technology."
A key element of the Kleer announcement is the availability of the Kleer interoperability test procedure. This ensures that all products bearing the Kleer logo are interoperable, thus setting the stage for a Kleer-based wireless audio ecosystem. While an MP3 player equipped with a Kleer transmitter can stream stereo audio to wireless earbuds, the same player can transmit to wireless home speakers, in vehicle speakers, or even other players.
"Kleer's interoperability strategy and associated plan to facilitate a wireless audio ecosystem are important elements in our evaluation of their wireless audio technology," explains Rob Fuhlbrugge, Director of Advanced Development and Technology Sourcing at Shure.
Besides support from manufacturers, Kleer is also announcing the support of primary elements of the wireless audio value chain, including ODM's, design houses and industrial design firms. Products from prominent wireless ODM's including Cresyn, DigiFi, Foster, Fujikon, Kaga Components and Yusan will be announced and shown at CES 2008, including tethered and untethered earbuds and wireless speakers.
Sound quality and interoperability between market-ready products will be demonstrated during CES 2008 at the Kleer press conference being held on January 7, 2008 at the Venetian, Casanova 501/601 at 10:00 a.m.
About Kleer
Kleer is a fabless semiconductor company that has developed the first wireless audio technology to combine high quality audio and robust ISM band coexistence with low power consumption to address portable, home and automotive audio markets. Kleer's Audio LP technology is ideally suited for OEMs of portable audio players, iPod® and other player accessories, home audio/theater systems, earphones, headphones, and speakers. Kleer distributes its products via direct sales in North America, and a distribution channel in Korea and Japan. The Company is headquartered in Cupertino, California with product development facilities in Ottawa, Ontario. For more information, contact the company at 19925 Stevens Creek Blvd. Suite 111, Cupertino, CA, 95014, Tel: 408-973-7255, Fax: 408-973-7256, Email: info@kleer.com, or visit the company web site at http://www.kleer.com
*All trademarks, registered trademarks, products and/or services mentioned herein are the property of their respective owners.
For more information:
Kleer Media Contacts:
Verrecchia Group Communications
Marlene Kovac
Tel: (514) 421-1940 x148
Email: marlene(at)vergroup.com
Or
Susan Verrecchia
Tel: (514) 421-1940 x147
Email: susan(at)vergroup.com
Kleer Contact:
Ron Glibbery - VP Marketing
Tel: (408) 966-8938
Email: rglibbery(at)kleer.com
###