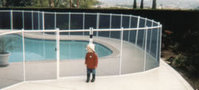 Largo, FL (PRWEB) January 8, 2008
Around Pools was started in 2007 to supply top quality products for around swimming pools. The company, although small in staff, is dedicated to providing the best possible products, service and information for their clients. The company headquarters is based in Stogrande, Spain.
Around Pools plans to expand its operation throughout Europe within the next twelve months. Specific geographical areas of focus include Spain, France and Italy with other locations to follow thereafter. Around Pools is currently searching for distributors in all European countries to distribute its products.
Colin Eccles, the founder and director of Around Pools and a father of two young children has an in-depth knowledge of water safety as he has been involved in the teaching of life saving for over twenty years in his native country of Ireland. Mr. Eccles also served as a professional firefighter for seven years. This experience in the education of water safety and general safety prevention has allowed Mr. Eccles to identify products that aid in the prevention of accidents around the swimming pool.
There are a number of reasons why Around Pools chose Pool Guard to supply its removable pool fencing and pool safety nets. These included the superior product design, durability, manufacturing process, reliability and functionality of the products. All of these are extremely important when selecting a provider, as the product must be one of top quality at all times, especially when it comes to safety.
Another reason for selecting Pool Guard was the people who own the company, Mitch and Susan Currie. Mitch possesses an in-depth knowledge of the pool safety industry and has been involved in the drafting of the legislation and codes concerning the provision of barrier systems around pools in the State of Florida. Given that this knowledge can only be acquired through hard work and dedication to the industry, there was never any question for Around Pools and Colin Eccles in this area when choosing a partner for the supply of removable safety pool fences and safety nets.
About Pool Guard Manufacturing
Based in Largo, Florida, Pool Guard Manufacturing is one of the nation's largest suppliers of pool safety fences. The privately-owned company manufactures its product completely in-house. It distributes fences across the country. Over the last 15 years, the company has installed more than 75,000 pool fences. For more information visit the Pool Safety Blog, Contact Pool Guard or call 888-876-4005.
###