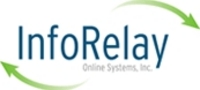 InfoRelay has differentiated itself from our competitors by connecting to a greater number of networks using the fastest possible connectivity
Ashburn Va. (PRWEB) January 8, 2008
InfoRelay Online Systems, Inc., an IT solutions and connectivity provider, announced a third round of 10 gigabit upgrades. The upgrades include incorporating additional capacity to its upstream providers using multiple 10 gigabit ethernet connections, each providing 10,000Mbps of network burst room per connection.
"InfoRelay has differentiated itself from our competitors by connecting to a greater number of networks using the fastest possible connectivity," said Russell Weiss, Vice President of Technical Services for InfoRelay. Weiss also explained that since today's consumer broadband networks are getting faster, providing end-users with more capacity to the Internet, companies that provide server collocation, managed hosting, and bandwidth services need to ensure that their networks can handle both standard customer traffic as well as large-scale Distributed Denial of Service (DDoS) attacks which may be launched with no notice, pushing thousands of megabits of malicious traffic to a specific customer.
InfoRelay plans to leverage Level 3's network to bolster network performance and improve upon redundancy. "After a significant amount of due diligence, the choice became clear to us given Level 3's immense global footprint and solid industry reputation," commented Weiss. While InfoRelay already connects to more than 14 tier 1 and tier 2 networks, as well as additional peers, the addition of connectivity to Level 3 is expected to improve upon network performance and redundancy.
InfoRelay stated that additional 10 gigabit upgrades have been performed in its Reston and Ashburn Virginia data centers, as well as its San Jose facilities. InfoRelay's additional network capacity will allow it to continue to serve large customers that purchase bandwidth via multiple aggregated GigE circuits and standard 10GigE circuits.
About InfoRelay Online Systems, Inc.
Founded in 1995, InfoRelay Online Systems, Inc. delivers enterprise-level managed services to businesses of all sizes. Utilizing seven data centers worldwide, InfoRelay serves over 100,000 clients through its main product lines and subsidiaries. InfoRelay's unrivaled network is powered by multiple Cisco routers, and boasts approximately 50 gigabits-per-second of network capacity. InfoRelay's staff and management combine decades of diverse experience in the fields of Information Technology, Storage, and Networking with today's best enterprise-level hardware and software technologies. Each enterprise-level client is assigned a dedicated Technical Account Manager and support team, allowing InfoRelay to further differentiate itself from the competition by providing a comprehensive, personalized support infrastructure. By demonstrating unparalleled levels of responsiveness, concern, and overall service, InfoRelay establishes a unique trusting relationship with each client, allowing InfoRelay to act as a 24x7x365 extension of its clients' IT departments. This partnership allows InfoRelay's clients to focus on their core businesses, rather than on the day-to-day concerns of hosting infrastructure. For more information, please visit http://www.inforelay.com, or call (703) 485-4600.
About Level 3 Communications
Level 3 Communications, Inc. (NASDAQ: LVLT), an international communications company, operates one of the largest Internet backbones in the world, connecting 180 markets in 18 countries. The company serves a broad range of wholesale, enterprise and content customers with a comprehensive suite of services including: Internet Protocol (IP) services, broadband transport and infrastructure services, colocation services, voice and voice over IP services, content delivery and media distribution services. These services provide the building blocks to enable Level 3's customers to meet their growing demands for advanced communications solutions. The company's Web address is http://www.Level3.com.
"Level 3 Communications," "Level 3," the red 3D brackets and the Level 3 Communications logo are registered service marks of Level 3 Communications, LLC in the United States and/or other countries. Level 3 services are provided by wholly owned subsidiaries of Level 3 Communications, Inc. Any other service, product or company names recited herein may be trademarks or service marks of their respective owners.
###