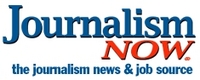 New York, NY (PRWEB) January 8, 2008
The world of journalism employment is off to a great start in 2008 with the launch of JournalismNow.com. With a modern feel and an easy-to-navigate design, JournalismNow.com is here to come to the aid of newspapers, print & online magazines, media companies, and news agencies around the world in helping candidates find positions in the journalism industry, as well as helping employers fill open positions.
Whether you're a recent college graduate, a copy editor or a sales rep with over 10 years of experience, all journalism candidates will have the ability to upload their resume to the Employer's database at JournalismNow.com, and get their skill-set noticed by employers looking to fill their positions with the best talent available. Employers can enjoy the benefits of super-low prices, and a hassle-free registration that lets you log in 24 hours a day, 7 days a week to post open positions.
With journalism news updated daily, featured articles on world events, and an open article-submission policy, JournalismNow.com aims to attract the career-curious, not the career-desperate. That's more good news for employers in the ever-shifting journalism Industry.
As a recent "Pick of The Week" from Julian Sher of JournalismNet.com, it looks like JournalismNow.com will be your best bet for journalism employment in 2008. What better way to ring in the new year?
###