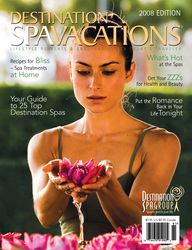 This provides our readers with the tools to live the happy and healthy lifestyle that Destination Spas advocate even if they can't get away
Tucson, AZ (PRWEB) January 10, 2008
According to a recent study by Expedia.com, 51 million Americans -- 35 percent of the adult work force -- do not take all the vacation they earn. Before another year slips by, it is time for everyone to schedule some time off and start planning a 2008 vacation. Just in time to help deprived vacationers with their travel plans, the latest edition of Destination Spa Vacations® magazine has hit the bookstores and newsstands throughout the country. The magazine showcases Destination Spa vacations in the travel guide and offers endless healthy living tips in the lifestyle sections.
"Destination Spa Vacations provides all the information for planning a health spa vacation," comments Michelle Kleist, Executive Director of Destination Spa Group®. "Our hope is that readers will be inspired to stop the deprivation cycle and plan a vacation that allows them to truly get away in 2008."
Spa goers have many options when making travel plans. For a spa vacation that offers much more than a postcard holiday, the solution is to visit one of the exclusive spas of Destination Spa Group. The spas range from intimate and rustic to large and luxurious - each offering a unique setting and experience. Spa goers can hike in the stunning scenery of British Columbia, explore and immerse in the culture of Mexico or enjoy the intimate setting of a country manor in the Pocono Mountains. The magazine's extensive travel guide offers a comprehensive two-page description of each location, including large color photographs, a summary of the facility, amenities and accommodations, an explanation of services and activities, maps and rates, making it easier for spa travelers to choose the spa that's right for them.
For added inspiration, Destination Spa Vacations includes tips, tools, and ideas from Destination Spa experts in the spa lifestyle sections. Personal trainers get you working out in the water. Nutritionists share strategies for mindful eating. Environmental gurus help you go green painlessly. Chefs tantalize your taste buds with mouthwatering spa cuisine recipes. Health professionals guide you to sleep. And therapists tap your creative juices with Haiku writing. "This provides our readers with the tools to live the happy and healthy lifestyle that Destination Spas advocate even if they can't get away," explains Kleist.
For anyone planning a spa vacation or trying to live a healthier life, Destination Spa Vacations is a must buy! Destination Spa Vacations is available at bookstores and newsstands across the country with a list price of $5.95. Destination Spa Vacations can also be purchased from the Destination Spa Referral Service or http://www.DestinationSpaVacations.com.
About Destination Spas™:
Only a select group of Destination Spas follow the tradition of the true Destination Spa - where the total environment is dedicated to health and life enhancement. The experience is transforming - a full immersion into healthy and joyous living. Guests come for the structured and personalized programs that blend fitness activities, healthy cuisine, wellness education, discovery classes, relaxation and renewal. Guests leave enriched for life.
About Destination Spa Group®:
Destination Spa Group® is a membership organization that is dedicated to educating the public about the unique wellness and self-improvement opportunities of Destination Spas. Spas must meet specific criteria for membership and be committed to providing a health renewing experience. Destination Spa Group offers three resources to help potential spa travelers find the right spa vacation and to live the spa lifestyle at home: http://www.DestinationSpaVacations.com; a free information and referral service: 888-772-4363 and Destination Spa Vacations magazine.
CONTACT:
Michelle Kleist, R.D.
Destination Spa Group®
888-772-4363
michelle @ destinationspagroup.com
###