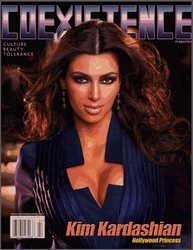 We know that our readers will love seeing her and learning more about her life in our January issue.
Los Angeles, CA (PRWEB) January 8, 2008
Coexistence Magazine, the only monthly, Middle Eastern magazine being sold in the U.S. and Canada, today announced that Kim Kardashian, celebrity entrepreneur and childhood friend of Paris Hilton, will be the cover girl and feature celebrity of the magazine's January issue.
In an exclusive interview, Coexistence gets up close and personal with Hollywood hottie, Kim Kardashian and learns that there is much more to the dark-haired California girl than meets the eye. Daughter of late Armenian-American lawyer Robert Kardashian and Kris Jenner, who is now married to Olympic gold medalist Bruce Jenner, Kim owns a high-end L.A. boutique called Dash and reorganizes closets professionally for Hollywood superstars such as Lindsay Lohan. When she's not in a celebrity's closet or partying with socialites, she stars with her family in the hit E! Hollywood reality show, "Keeping Up with the Kardashians." Kim also recently graced the cover of the December 2007 issue of Playboy magazine.
"Kim embodies everything that Coexistence represents--beauty, brains and pride in her Middle-Eastern roots," said Shahded Kelishadi, Creator and Publisher of Coexistence Magazine. "We know that our readers will love seeing her and learning more about her life in our January issue."
The January edition of Coexistence Magazine will be available for purchase January 4, 2008 at Barnes and Noble, Borders, Waldenbooks, Hastings and B&N College Bookstores nationwide, or online at http://www.coexistencemag.com.
About Coexistence Magazine
Coexistence is the leading lifestyle magazine for the most affluent and fastest-growing immigrant group in the U.S.--Middle Eastern Americans. The magazine aims to reach a plethora of individuals by promoting Culture, Beauty and Tolerance™ through coverage of the hottest topics, from politics to entertainment, to culture and style. To coexist is to live harmoniously among neighbors; regardless of race, creed, culture, religion or lifestyle. Although the magazine primarily focuses on Middle Easterners in America, Coexistence works to cultivate understanding and acceptance among Americans of all backgrounds. By covering the most pressing issues in young Middle Eastern Americans' lives, Coexistence offers a medium that this untapped market trusts. For more information, visit http://www.coexistencemag.com.
Media Contact:
Coexistence Magazine
Shahded Kelishadi
818-916-3342
http://www.coexistencemag.com
###