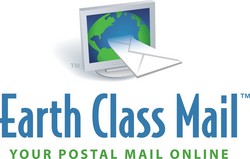 As we are a 'clicks-and bricks' hybrid company, Robert Headley's experience at Starbucks during the retailer's early days of national expansion and international roll-out will be immensely helpful as we expand globally.
Seattle, WA (PRWEB) January 8, 2008
Earth Class Mail Corporation announced today the completion of a $13.3 million Series A Preferred Financing round and the addition of three investor representatives to its Board of Directors.
Earth Class Mail provides online delivery of postal mail to as many market segments as the U.S. Postal Service -- from residential consumers to Fortune 500 companies, the military and the government. The new round of funding, led by Bellevue, Washington-based venture-capital firm Ignition Partners, will allow the company to establish operations facilities in over a dozen additional cities in North America, expand its marketing programs and accelerate product development. Currently, individuals and businesses in more than 130 countries use the company's service to receive and manage their U.S. postal mail digitally instead of in paper form.
In a first-of-its-kind syndication, the members of the Keiretsu Forum, the world's largest organization of angel investors, were offered pari passu participation in the financing alongside the institutional venture capital fund. When combined with an earlier convertible-note round that was incorporated into the Series A total, the investments of Keiretsu members and other angel investors composed more than half of the financing amount.
"We were faced with the classic quandary of whether to go with institutional investment for our Series A or to stay with an all-angel financing round," said Ron Wiener, CEO of Earth Class Mail. "As the record-holder for a technology company raising capital through the Keiretsu Forum, and having fielded a great deal of unsolicited interest from institutional VCs, we were confident that we could succeed on either path. We understood the immense value that comes from Keiretsu's worldwide network because it dominated our convertible-note bridge round. At the same time, we understood the immense strategic leverage and financial stability that we would gain by having the largest venture fund in the Pacific Northwest, Ignition Partners, invest in the round. Our board of directors was extremely pleased to be able to structure a deal that brought together both investor groups on the same term sheet -- it truly is the best of both worlds."
Earth Class Mail's Board of Directors has been joined by Jonathan Roberts and Robert Headley of Ignition Partners, and by Kenn Dahl, who will serve as the official board representative for the Keiretsu investors, all Seattle-based.
"The depth of Ignition's enterprise-software experience and its Microsoft pedigree, particularly given our company's strategic partnership with Microsoft, made it a logical choice as lead investor and Jon Roberts an ideal lead partner," said Chris Kwak, Chairman of Earth Class Mail. "As we are a 'clicks-and bricks' hybrid company, Robert Headley's experience at Starbucks during the retailer's early days of national expansion and international roll-out will be immensely helpful as we expand globally."
"In addition, Kenn Dahl has been a staunch supporter of the company since its inception as well as our largest individual investor. He brings extremely relevant document-outsourcing industry experience to our company's strategic planning, and we are pleased to elevate him from the Advisory Board to be Keiretsu's new representative on the Board."
About the new Board members
Jonathan Roberts is a founder and a partner of Ignition who previously spent 13 years at Microsoft, most recently as General Manager of the Windows CE Intelligent Appliance Division, where he was responsible for product development, marketing, business development and long-term planning for the Windows CE platform and oversaw the retargeting of Microsoft's PocketPC product line. During his time at the company, he led marketing and business development efforts for Windows 3.1 and 3.11, Windows NT 3.51 and 4.0, BackOffice 1.0, Windows 98 and NT 4.0 on the Desktop, and finally all of Windows CE's extensions, including embedded, Pocket PC, auto, phones, set-top and games. Roberts received his B.A. in history from the University of Washington, where he was student body president. He currently serves on the University of Washington Foundation Board.
Robert Headley invests in enterprise-software and wireless companies and also acts as Ignition's Administrative Partner, overseeing the firm's day to day operations. Prior to joining Ignition, Headley spent seven years at Starbucks Corporation, most recently as Vice President, Finance & Treasurer. In that role, he managed Starbucks' investor relations, corporate development, treasury, business planning and analysis, and profit-improvement efforts and initiatives. Prior to Starbucks, he spent three years in the Principal Investment and Investment Banking divisions of Goldman Sachs in New York City and Sydney, Australia. Headley earned an M.S. and a B.S. with distinction in industrial engineering from Stanford University.
Kenn Dahl is the president of Prime Recognition Corporation, a leading developer of machine-print OCR software in high accuracy/high volume applications. Its award-winning products are sold to a wide variety of customers including the U.S. government, high-volume service bureaus, universities, law firms, and many other types of customers internationally. Dahl founded Prime in 1993 and was the inventor of the key OCR algorithms and product architecture. Prior to Prime Recognition, he held a variety of positions, including VP of Sales & Marketing and VP of Corporate Development at ICOT Corporation, a public high-tech company located in Silicon Valley. He has also worked as a scientist with GE Research and as a management consultant with McKinsey and Bain & Co. Dahl graduated as the top engineer in his class from Purdue University in 1980 and received a MBA from Stanford University in 1983.
About Earth Class Mail
Earth Class Mail™ (http://www.EarthClassMail.com ) gives people the ability to access their U.S. postal mail online from anywhere in the world, 24x7. The service is used by individuals, small businesses, and major corporate and government enterprises, with users currently accessing the http://www.earthclassmail.com website from over 130 countries. It is a popular alternative to P.O. Box rental, executive suites and mail forwarding services. Earth Class Mail technologies also manage standardized process mail, such as claim forms, invoices, and checks, more efficiently and cost-effectively than ordinary document management and storage solutions, for companies that are trying to "go paperless" or have large numbers of mobile workers, telecommuters and expatriates. Founded in 2004, Earth Class Mail is headquartered in Seattle, Washington, and has over 20 points of presence in the USA from New York to San Francisco where customers may have their mail delivered.
###