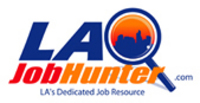 Los Angeles, CA (PRWEB) January 8, 2008
LAJobHunter.com, the online employment gateway that currently has over 5500 targeted job opportunities exclusive to Los Angeles County and its surrounding communities, has recently undergone a series of website improving changes to assure that the website stays up to date and accommodates the exploding job market in Southern California.
Reloaded and positioning itself to become Los Angeles' hottest new job connection network; LAJobHunter.com has implemented changes to its online portal to make it more than just a static job board and moves it to become a viable interactive partner to job seekers and employers/recruiters alike.
Of the many exciting changes now taking place on the site, some of these revamping efforts include but are not limited to adding great utility features like a new and user friendly account set up process for both job seekers and recruiters/employers. The site now also has an updated website navigation system and added client information security features to assure customer privacy and information accuracy.
To expand its reach and provide Los Angeles area employment recruiters with maximum exposure to potential job seekers, LAJobHunter.com has now partnered with several reputable websites and pushes LAJobHunter.com jobs to its partner websites. This increases the visibility and applicants to jobs posted through its website.
In their refashioning of the site, LAJobhunter.com has improved on what has come to be known as 'standard fare' for most job and employment websites who promote features like having resume posting ability. LAJobHunter.com has embellished this feature by adding more value to job hunter's with usable and practical elements such as resume review and coaching, 'skills review resources,' and 'interview coaching opportunities' which are now available for all job seeking candidates who sign up for the services which are always free for job seekers.
The overall goal of LAJobHunter.com is to become the leading job connection network for the greater Los Angeles area, by helping hiring recruiters/managers to find targeted, active and qualified Los Angeles area job seekers fast, effective and affordable.
###