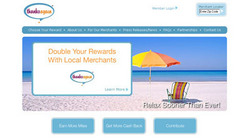 Our focus is to create added value for the consumer
Tyrone, GA (PRWEB) January 9, 2008
Today's world is one where consumers are always in a constant search for the best deals. With the prevalence of discount shopping, both online and in brick and mortar stores across the country, shoppers have to look even further to get the most for their money.
A leading company in merchant funded rewards, Thanks Again announces a new program allowing customers to register to double their rewards by completing a simple two to three minute form online. They can elect to use their registered credit or debit cards to receive double airline miles or cash back. In the very near future, consumers will also be able to choose gift cards or charitable donations. Thanks Again works in concert with existing rewards programs to enhance the customer buying experience when making purchases with or using the services of participating businesses.
"Our focus is to create added value for the consumer," says Marc E. Ellis, CEO of Thanks Again. "We have positioned ourselves to continue to make that happen for a long time to come." The company has partnered with the nation's most renowned reward program providers, including major airline frequent flyer programs, large credit card issuers, and affinity/loyalty companies, to become a forerunner in the merchant funded rewards segment.
In 2008, Thanks Again is expanding to benefit everyday spending, including auto care, home care, and personal care (e.g. salons, spas, gyms).
For more information or to become an enrolled merchant in this exclusive customer loyalty/acquisition program, visit ThanksAgain.com.
About Thanks Again:
Thanks Again is a merchant-funded reward network that allows large National Reward Programs to accelerate reward earning opportunities for millions of their members. The Thanks Again Rewarding MerchantSM network is a local merchant consortium with a current presence in 41 of the top 50 markets across 30+ states.
###