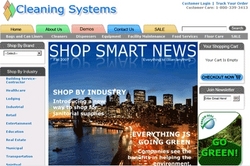 Our decades of experience in the wholesale business allow us to completely understand the needs of the janitorial supply industry
New Rochelle, NY (PRWEB) January 9, 2008
Whether a company is small or large, building and office maintenance can be expensive. Purchasing wholesale janitorial supplies has been made easy with the launch of CleaningSystemsCo.com. With 35 years of wholesale distribution experience, Cleaning Systems announces the opening of their e-commerce store. As one of the largest wholesale suppliers of paper and janitorial supplies, Cleaning Systems is now offering its vast inventory to the web community.
James Trister, President of Cleaning Systems, explains, "We have offered everything to clean anything since 1972. By launching an e-commerce website, we are able to offer our expertise and experience to the online community. Our mission is to be the number one e-tailer for janitorial cleaning supplies."
As a leading distributor of wholesale institutional cleaning and maintenance supplies, Cleaning Systems' immense line of products includes professional janitorial equipment. With product offerings to specific industries, customers can easily find the products that are best suited for their industry. This easy-to-use website offers a fresh, new approach to e-commerce. The consumer has the opportunity to explore all the various aspects of the e-commerce division while in the comfort of their home or office. Additionally, the website offers and highlights visual images of supplies and equipment.
"Our decades of experience in the wholesale business allow us to completely understand the needs of the janitorial supply industry," continues Trister. "Therefore, we feel that we have both the products and support that will enable the consumer to accomplish their intended task with our knowledgeable help, advice, and support.
Additionally, Cleaning Systems offers a complete line of environmentally green cleaning supplies. Institutional buyers or facility managers can purchase Green Seal products, cleaning chemicals, recycled paper products, sustainable machinery, and source reduction dispensing systems. With the knowledge and resources to help any consumer meet their green objectives, Cleaning Systems is the ideal wholesaler for those wishing to go green.
To learn more about Cleaning Systems or wholesale janitorial supplies, please visit CleaningSystemsCo.com.
About Cleaning Systems:
The New York based wholesale distribution business, Cleaning Systems, offers discount janitorial supplies. With more than 45,000 brand-leading janitorial cleaning supplies and products, Cleaning Systems is able to supply hotels, schools, office buildings, municipalities, recreation centers, sports arenas, country clubs, multi-unit chain stores, and more. Known for offering innovative cleaning solutions to consumers at the lowest possible cost, Cleaning Systems now extends its products and knowledge online to reach broader consumer audience. To learn more about their products, please visit CleaningSystemsCo.com.
###