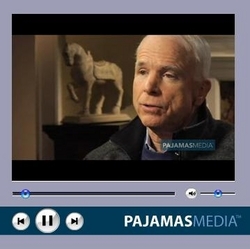 Osama, I'm going to get you. Even if I have to follow you to the gates of hell, I'll bring you to justice.
Washington, DC (PRWEB) January 9, 2008
Pajamas Media (http://www.pajamasmedia.com) is now working with Vividas, a leading provider of video streaming technology, to bring online news consumers its top-notch video news coverage in full-screen, high-definition.
Pajamas Media recently premiered its first two hi-def videos, interviews with Republican presidential candidates Rudy Giuliani and John McCain. These interviews are the second and third installments in the Pajamas Media series with the candidates titled "The War on Terror."
Vividas video streaming technology ensures a smooth, enjoyable experience for the user. Content plays in full-screen mode directly through the web site, as opposed to a media player on the user's computer. In addition, Vividas provides worry-free DRM for the content provider, as the company encodes content with one of the highest rated DRM protections in the industry.
During the interview, McCain made his message to Osama bin Laden very clear saying, "Osama, I'm going to get you. Even if I have to follow you to the gates of hell, I'll bring you to justice." Meanwhile, Rudy Giuliani explained why an Iraq-style "surge" is needed in Afghanistan.
If you would like to speak to Roger L. Simon, CEO of Pajamas Media, about the substance of McCain's and Giuliani's position on this issue, please contact Karen Northon (x121) or Megan Franko (x148) at 703.683.5004. If you would like to speak to Iain Molland, U.S. CEO of Vividas, about this next phase in online video, please contact Jamie Serino at 212.999.5585.
About Pajamas Media
Pajamas Media, a blog media company, provides coverage and thoughtful analysis and commentary on issues of the day through their network of more than 90 bloggers in 47 countries, and through original stories, podcasts and videos. (http://www.pajamasmedia.com)
About Vividas
Vividas, a leading developer and provider of online video streaming technology, is changing the video value food chain. Their proprietary technology facilitates the streaming of high-quality video through the internet for a smooth, full-screen viewing experience that does not require software or video player downloads. Vividas' Digital Rights Management (DRM) protection is the highest rated in the industry, safeguarding against piracy and offering video content providers the security to distribute their material through the internet. With over 200 global corporate, sports, and entertainment customers, including companies such as BMW, Fox Sports, Sony Pictures, MoviePol, Eurocinema, Fosters, Granada Media and Zurich, Vividas video streaming technology is used for a variety of purposes including Internet TV, pay-per-view programming, events, corporate communications and more. Vividas is an AIM-traded company. For more information, visit http://www.vividas.com.
CONTACT: Karen Northon
202.286.4898
Megan Franko
703.683.5004 x148
Jamie Serino
212.999.5585
###