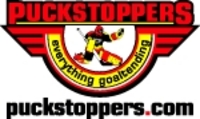 I enjoy helping others acheive their goals and my life expereinces allow me to help others, so its a way to give back and I love it
London, ON (PRWEB) January 9, 2008
Puckstoppers Goaltending Services is celebrating a milestone, 20th anniversary. In those 20 years, they have provided goalie instruction to literally thousands of ice hockey goaltenders at their goalie schools. Quite an accomplishment considering the company President was 'dead' in his younger years and then not expected to make it into his teens let alone be active in sports.
You see, Chris Dyson was born with a hole in his heart, doctors repaired it when he was just 2 years old, but the heart was unknowingly damaged during the surgery, which manifested itself at the age of 7 when Chris, for all intensive purposes 'died' of cardiac arrest. Several hundred heart failures later, an emergency air transfer, lots of hospital time, hundreds of tests, a Pacemaker implant… and things seemed to be fine. Although doctors couldn't understand why he wasn't dead or severely brain damaged from the heart stoppages. Doctors had never seen a patient survive so many arrests.
The next ten years were turbulent to say the least, as his parents divorced, his father walked away never to be heard from again when he was only 7, many trips to the hospital for heart failure, pacemaker recalls & broken wires, moving to a new city for his mothers new nursing career and her subsequent self destruction with alcoholism and depression.
Through it all, Chris continued along as any 'normal' child, showing no ill effects from the goings on in his life. He developed a love for ice hockey and a strong desire to become a goaltender. He enjoyed all of the activities that his friends did. In fact he kept his 'condition' a secret from almost everyone. His reasons were simple, he didn't want to be treated differently and he adamantly insisted that no one be told, unless it was absolutely necessary.
Inspired by his growing desire to play goal and undaunted by his inability to skate, in grade 7 he signed up for the school hockey league as a goalie. Despite having to be pushed onto the ice for the first game, he learned quickly and at the end of the season won the 'best Goalie' award for his league.
Chris went on to form several men's teams, never missed a chance to play, often skipping school and heading to the rink, summers included time on the ice with several pro's, he even ran a men's league with 60 teams. Then he decided to turn his passion into a business and started 'Puckstoppers Goaltending Services' renting goalies to adult teams and offering a weekend goalie school.
From humble beginnings in 1988 as a weekend goalie clinic in London, Ontario, they have steadily grown along with their reputation for excellence in goaltender training and have now presented their world renowned goaltending schools in: Germany, United States, Finland, Belgium and of course Canada, where they are based out of London. Students and instructors have attended Puckstoppers Goaltending Schools from 17 countries.
In the professional hockey world, the average playing career is often shorter than the time you would spend in high school. The average hockey or goaltending school usually lasts about the same amount of time. Yet, in 2008 Puckstoppers Goaltending Schools is celebrating their 20th anniversary, This puts Puckstoppers in the top 5% of all goalie schools in the world, in terms of longevity.
As the company enters its 20th year, they are working hard to reach many of the thousands of goalies that have attended over those 20 years. Puckstoppers hopes to compile a 'where are they now' feature for their website and although they have hundreds of testimonials from happy students & parents, they would really like to know how students lives were affected by their positive motivation and instruction. They have established a Puckstoppers Facebook Group in hopes of connecting with past students. All are encouraged to join them.
Dyson has endured a lot in his lifetime, but he clearly views all of it as a learning experience. "I take something good from every experience and you can't succeed without failure along the way," says Dyson. He has a belief in himself, his goals and the people he brings on board. He reminds us, "Positive thinking will get you a long way in life, the laws of attraction are always at work and I could not have achieved what I have without good people to help me along the way and the 'never give up' attitude that my mother passed on to me."
He has recently turned his passion for coaching hockey to helping others, as he has become a Life/Success Coach and is building a private practice. "I enjoy helping others acheive their goals and my life expereinces allow me to help others, so its a way to give back and I love it," says Dyson.
Not dead, very much alive! With a wife, 3 kids, a family and a passion he created a business from, Puckstoppers Goaltending Schools is 20 years young and still going strong. He must be doing something right.
###