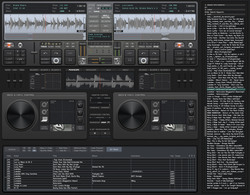 Many professional DJs, producers and remixers use Macs as a preference platform, so the release of version 1.2 will make Deckadance a real proposition for them
(PRWEB) January 10, 2008
Sint-Martens-Latem, Belgium, Image Line Software, the developers of Deckadance and FL Studio announce the greatly anticipated Mac OSX release of Deckadance (Universal Binary). Now all customers, Mac & PC, have access to one of the fastest growing DJ mixing software platforms in the market.
"Many professional DJs, producers and remixers use Macs as a preference platform, so the release of version 1.2 will make Deckadance a real proposition for them," commented Luis Serrano, the developer of Deckadance.
Open controller & timecode support: The Digital Vinyl System control panel has been redesigned and now comes with new and improved features, including an easy-to-use interface, a real-time signal spectroscope, and of course, the 'learning' feature that enables almost any timecode source (CD or Vinyl) to be used. There is also Vinyl timecoded control of decks inside Ableton Live and Live LE.
Improved Windows soundcard driver compatibility: Deckadance now supports DirectSound drivers in win32 platforms in addition to ASIO4ALL.
Native support: Deckadance 1.2 includes native support of the following controllers: Hercules Dj Console, Kontrol Dj KDJ500, EKS XP10, Behringer BCD2000/3000, M-Audio X-Session Pro, Allen&Heath Xone:3D, Vestax VCI-100 and Numark Total Control.
Editions: Deckadance 1.2 is available in two retail editions, Deckadance Club Edition (full) and Deckadance House Edition that drops the timecoded vinyl/CD transport control features. For hardware manufacturers that would like to bundle Deckadance with their DJ products there is a special LE Edition (contact Image Line Software for more details).
Download Deckadance 1.2 from Deckadance Downoload Location.
Price: Deckadance Club Edition is US $179 and House Edition US $99. Both versions can be ordered from the FL Studio Web shop Deckadance Order Page.
Image Line Software will feature Deckadance at this month's NAMM show (Anaheim, California, January 17-20), where you can see the entire Image Line Software product portfolio, meet the management team and product developers. Image Line Software will be located at booth 6828 in Hall 1.
About Deckadance:
Deckadance was released in May 2007. It is a fully featured DJ mixing application in which creative DJ performance is the key design philosophy. Deckadance can be controlled using most existing midi controllers and time-coded vinyl and CD systems. Deckadance works either as a standalone program or as a VSTi plugin inside a VST host. Deckadance can also host any VST-compliant softsynth or effect. Check Deckadance Web Site for more information and features details.
About Image Line Software:
Established in 1994, Image Line Software provides high quality music applications to the computer-based music community and is well known for its leading digital audio workstation FL Studio (formerly Fruityloops), high quality synthesizers including Sytrus, PoiZone and ToxicIII, a mix of innovative Effect plugins and range of sample libraries used in their multi-sampler plugins DirectWave and Soundfont Player. In May 2007 Image Line Software released its acclaimed DJ mixing software application Deckadance and in July - its first additive synth, Morphine. In October Image Line Software announced its latest audio tool - the Multiband Maximizer Maximus. In addition to its audio software, Image Line Software develops and distributes the web site building application, EZGenerator.
For more information, please contact:
Maya Boycheva, PR Manager
Image Line Software
pr(at)image-line.com
###