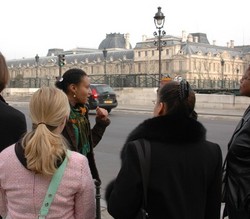 Paris has many secrets and going behind the walls is difficult enough
Paris, France (PRWEB) January 10, 2008
As the original providers of Black history tours in Paris, Walking The Spirit Tours are offering a privileged perspective on Black Paris through their guides who actually live or lived in the neighborhoods they give tours through. Since 1994, they have been forging relationships and swapping stories with locals who remember and share memories of African-American writers, artists, intellectuals, entertainers and musicians whose talents flourished in Paris' tolerant environment. With an intimate knowledge of their predecessors' experiences and their enthusiastic integration into their neighborhoods, the guides make each tour a journey into a community rather than a parade of facts and headlines.
Guide Ealy Mays, alumni of Denzel Washington's 'The Great Debaters' school Wiley College, lives in the same building James Baldwin did and invites tour participants up the narrow stairway to step back into Baldwin's life. As an artist, Mays has just finished an exhibition at The Louvre, following in the footsteps of Henry O.Tanner who was the first African-American to exhibit at the world famous museum. Living and working in the Latin Quarter since 1986, Mays gives visitors an authentic glimpse into what the artistic life was like for Henry O. Tanner, Lois Mailou Jones, Ed Clark and for a Black artist today. "Paris has many secrets and going behind the walls is difficult enough," says Mays. "There still exists in the district those who say, oh yes I remember James Baldwin, here's a lost photo; here's a photo of Martin Luther King; this gallery still has some tucked away Beauford Delaney paintings in their cellar. The arts district fits me like a hand and glove and Walking The Spirit Tour #1 Writers, Artists, and Intellectuals is situated right here."
Mays follows the example of the tour company's creator, manager and ongoing guide, Canadian Julia Browne. "In 1994 when I discovered Langston Hughes had lived just blocks away from me in Montmartre, I snuck in the building and up to the 6th floor where he sweated over his jazz poetry. As a journalist and writer, I just had to share this with others. When I lead people down the hill to where he bussed at Le Grand Duc nightclub, which was run by Black aviator Gene Bullard, we're all conscious of following his spirit." She won't hesitate to advise on the selection at the liquor store now standing where Bricktop's once entertained royalty, she'll calculate the price of butter Parisians pay today compared to Josephine Baker and her fellow aspiring entertainers in the '20s. And at Haynes Soul Food restaurant, which marks the end of Tour #2 The Entertainers, she loves introducing travellers to the legendary eatery and its chef.
As locals, the guides have witnessed changes in each district and share that perspective with tour participants, giving a sense of Paris' evolution as more than just a tourist destination. For example, on Tour #3 Africa In Paris, they explain the social implications and politics behind the gradual upgrading of the traditional African district. Facilitating conversation between tour-goers and French-speaking business owners also encourages African/American rapport.
Walking The Spirit Tour guides enjoy nothing better than sharing the Paris they know best and being a vital part of the ongoing African-American presence in this city.
Walking The Spirit Tours offers 3 two-and-a-half hour tours year-round, a comprehensive bus tour, and creates themed itineraries for individuals and groups.
###