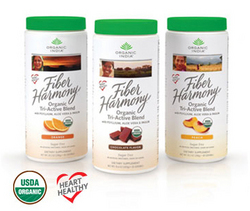 In designing our product, we wanted to make sure we offered consumers a certified organic, great tasting, fiber based product that people can feel good about using every day. We feel we have been very successful in developing a product which meets our consumer's needs
Boulder, CO (PRWEB) January 10, 2008
ORGANIC INDIA USA announced today it has introduced Fiber Harmony™, a certified organic digestive product into the United States market, targeting health, grocery, drug and mass merchant stores.
On making the announcement, Ken Vickerstaff, ORGANIC INDIA USA, C.E.O., stated, "I am excited to announce the introduction of Fiber Harmony™, the first certified organic digestive product made with all certified organic ingredients." ORGANIC INDIA, makers of the Original Tulsi Teas, has introduced four new Fiber Harmony™ flavors including Orange, Peach, Chocolate and Whole Husk.
The American Dietetic Association recommends Americans need 20 to 35 grams of fiber in their diet. Most Americans only get one half of the fiber in their typical diets, and usually less. This lack of fiber in the American diet may contribute to the rising rates of heart disease and obesity in the U.S. According to Mr. Vickerstaff, "Soluble fiber from foods such as psyllium contained in Fiber Harmony™, as a part of a diet low in saturated fat and cholesterol, may reduce the risk of heart disease. If a consumer uses Fiber Harmony™ three (3) times per day, they will receive the fully recommended amount of 7 grams of soluble fiber per day to have a heart health effect."
Fiber Harmony™'s unique Organic Tri-Active Blend provides a daily fiber formula that vitalizes and soothes the digestive tract, along with providing heart healthy soluble fiber. Fiber Harmony™'s Organic Tri-Active Blend contains certified organic psyllium with added ingredients such as Inulin, which helps maintain a healthy colon, Aloe Vera which helps to protect the intestinal tract, and Marshmallow Root which helps sooth the digestive system.
Most digestive health products sold in the U.S. are not certified organic. ORGANIC INDIA grows their psyllium using organic agricultural practices, without the use of synthetic pesticides, herbicides or fertilizers. The organic psyllium is processed using a dry steam process as compared to other psyllium that is processed using synthetic fumigants. "In designing our product, we wanted to make sure we offered consumers a certified organic, great tasting, fiber based product that people can feel good about using every day. We feel we have been very successful in developing a product which meets our consumer's needs," concluded Mr. Vickerstaff.
About ORGANIC INDIA:
ORGANIC INDIA USA located in Boulder, CO, markets and distributes a range of organic products produced in India, but sold throughout the world. ORGANIC INDIA is a privately held company, located in Lucknow, India. ORGANIC INDIA works with thousands of family farmers in India who cultivate tens of thousands of acres of organic farmland. ORGANIC INDIA provides training and a premium living wage to Indian farmers who grow organic products, which in turn promotes a sustainable environment.
For more information go to:http://www.OrganicIndiaUSA.com
###