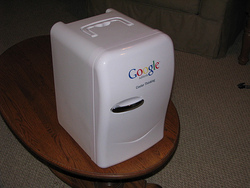 Chicago, IL (PRWEB) January 10, 2008
Dan Perry is giving away his prized possession; the Google Fridge.
Yes, you read that correctly. Dan Perry is giving away his coveted Google Refrigerator to one lucky blogger.
For those that don't remember, this refrigerator was a gift to AdWords advertisers in 2006 that generated 1 million clicks in their accounts. That means that these are not something you can just buy; they were a prize, and are very difficult to find.
It's never been used, and is in the original box. There are lots of pictures and a video of the fridge itself. There's a car adapter included, for taking it on the road, and even the option to use it as a "warmer", in case you want to keep that dish of sweet potatoes warm on the way to Mom's for Thanksgiving.
The contest is simple: Create a blog post that outlines what you would do with the refrigerator, if you were to win. Within the post, link to the original page on the post (http://danperry.com/wordpress/google-fridge-giveaway/). That's it; the trackback automatically enters you (but to be sure, feel free to leave a comment on the post).
The contest is open until Midnight EST, Monday January 14th, 2008, so get working on that post!
There are four judges, and the winner will be selected within a week or so, and will be shipped shortly thereafter. The contest is open to those in the continental US, Hawaii, or Canada.
There are lots of pictures and even a video showing all the coolness that is the Google Fridge, so what are you waiting for? Start blogging, and good luck!
Dan Perry likes golf marketing, internet marketing, and on occasion, beer. If you like any of the three, feel free to stop by his blog and say Hi.
###