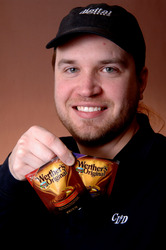 On this project we didn't have a die line to work off of, but I have worked with enough of them that I know the basic structure of the bag. I just took from what I already knew.
Delafield, WI (PRWEB) January 10, 2008
CL&D Digital, a short-run, quick-delivery printer of consumer goods products packaging and labels for sales samples, prototypes, and comps has assisted in the developmental stages of bringing two new varieties of Werther's Original® Caramel Chocolates to the world. Milk chocolate and dark chocolate Werther's Original Caramel Chocolates in three-piece travel packs are hitting store shelves around the globe - and CL&D Digital was literally involved in the packaging from conception.
"In most cases, clients bring the die line and graphics for packaging to us for printing," explains Karen Hennekens, CL&D Digital customer service manager. "Sometimes we're asked to design a die line after an existing packaging style, but in this case, Storck USA actually designed their graphics to fit our die line."
Storck USA is the parent company of worldwide favorites Werther's Original and Riesen® candies. Rick Scheunemann, pre-press at CL&D Digital, developed three different packaging styles with three of the candies arranged a little differently inside to determine which option Storck USA preferred. "Usually we're adjusting die lines that the client has already created and used - we're just changing sizes," reiterates Scheunemann. "On this project we didn't have a die line to work off of, but I have worked with enough of them that I know the basic structure of the bag. I just took from what I already knew."
"The candy is distributed from Storck USA in Chicago, but it is typically packaged in Germany where it is made," Hennekens adds. "We had been working very closely with them on a bigger six-ounce package, so they trusted that CL&D Digital knew the product and its related packaging."
Ram Ramakrishnan, marketing manager on Werther's Original adds, "CL&D Digital did a great job of creating concepts for the three piece trial pack. We then selected the best concept and fine-tuned it with the help of manufacturing." CL&D Digital's Hennekens explains that the mock-ups for the trial packs were used to help Storck's manufacturing division determine if the pouches could actually be produced. After a few tweaks to the die line and material, manufacturing gave the go-ahead for production. "In the end it turned out to be a great, unique looking pack," concludes Ramakrishnan.
Storck tried three different materials for the packaging: clear film plastic, white film plastic, and metalized film. Ultimately Storck USA selected the white film - and samples were sent to Storck's headquarters in Germany for permeation testing to ensure inks and odors from the packaging did not affect the quality of the candy.
"It's interesting - not something I do every day," says Scheunemann, who holds a bachelor's degree in industrial design. "I got to work with the actual material, making sure it fits by mocking it up - it was a unique challenge because the candies are a unique shape and the packaging a small size."
"We are very happy about the way the pack turned out in the end. It looks sharp on the shelf and is a good representation of our brand," says Ramakrishnan. Werther's Originals is a special recipe classic cream candy that has been handed down from generation to generation and created over 100 years ago in the small European village of Werther. The new Werther's Original Caramel Chocolate varieties are rich chocolates marbled with smooth, creamy caramel made in this same fine European tradition.
About Storck USA
Storck USA was established in Chicago, IL in 1975 - its central location chosen also for its status as the candy manufacturing capital of the U.S. Werther's Original, launched in 1981, is Storck's flagship brand. By 1988, it had become the top selling hard candy in the U.S. - a position it still holds today. Other Storck brands soon followed, including Riesen® in 1991, Werther's Chocolates in 1996, and Werther's Original Chewy Caramels in 2006, among others. Today Storck varieties are available in over 90 countries worldwide.
Over 100 years ago in the small European village of Werther, Gustav Nebel created a special recipe for making the classic cream candy. Handmade with pure ingredients like fresh cream and real butter, it's a recipe that has been handed down from generation to generation. The origin of the company's name comes from August Storck, who in 1903 founded the Werther Sugar Confectionery Factory - and began the tradition of making all kinds of confectionery products by hand.
Storck can be found on the Internet at http://www.storck.com.
About CL&D Digital and digital package printing
Bob Scherer, Vice President of CL&D Digital, is a respected conference speaker and contributor to industry trade journals on the subject of digital technology and digital package printing. In 1995 along with two partners, Scherer established CL&D Digital as one of the first packaging printers to use Hewlett-Packard (HP)/Indigo digital printing technology. The company's customers - including many Fortune 500 consumer products manufacturers - count on CL&D Digital's full production run quality for their package and label sales samples, prototypes, and comps.
Digital printing can help a manufacturer avoid the high costs and long lead times associated with conventional printing. Depending on the quantity and number of colors, digital printing can cost up to half as much as conventional printing - in part because digital printing is achieved direct from the computer without plating. Digital printing can allow for less waste and storage, too, by printing only the quantity needed. It can also provide the flexibility of showing different versions of the same packaging at minimal cost, which offers the capability of moving a product into niche markets once deemed too cost prohibitive.
In addition to digital printing and packaging dry goods including food, candy, coffee, sundries, and personal care items since 1995, CL&D Digital has the capability of overseeing the packaging of refrigerated foods in a consistent 38 degree-temperature warehouse, or frozen foods in zero degree-temperature warehouse, both within over 600,000 cubic feet of state-of-the-art, ASI-certified space. CL&D Digital is certified by The American Sanitation Institute (ASI) for food contact packaging and non-food contact packaging.
Members of the media can contact Bob Scherer at 262.569.6732 or 262.391.3984, or email at: bscherer @ clddigital.com. CL&D Digital can be found on the Internet at http://www.clddigital.com.
###