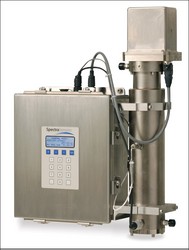 One of the major benefits of the TDL-based analyzer for this application is the avoidance of hazardous waste, a major drawback of lead acetate tape systems
Torrance, CA (PRWEB) January 10, 2008
The emergence of Tunable Diode Laser (TDL) based technologies has been a major development in many industries, and has created valuable opportunities for refineries and chemical plants to maximize productivity while avoiding high maintenance costs with a gas analyzer.
By instantly and accurately pinpointing the presence of moisture, HCl, H2S and other impurities in feedstock and fuel gas streams, the TDL-based gas analyzer is able to provide significant benefits. Among those are the prevention of foreshortened lifespan of costly catalysts, enhanced assurance of product quality, reduced turnaround recovery times, and avoidance of unscheduled shutdowns.
For refineries, the ultimate danger of dry-down lapses is not only potential damage to the reactor catalyst, but also that "off spec" materials might be inadvertently produced - both of which could cost a refinery hundreds of thousands of dollars or more.
In the same situation the TDL-based is not affected by the moisture slug, and has zero dry-down time. Rather, this technology utilizes absorption spectroscopy that safely measures moisture from behind the non-wetted side of an optical window.
"One of the major benefits of the TDL-based analyzer for this application is the avoidance of hazardous waste, a major drawback of lead acetate tape systems," explains Sam Miller, a representative for SpectraSensors. "Lead acetate tape is a consumable that must be changed weekly or monthly. Once used, the tape must be disposed of in a manner that is both costly and inconvenient. If there is a system leak, the entire tape is exposed, causing considerable added expense."
The TDL-based [gas analyzer measures both sweet and sour gas through a window outside the stream, avoiding contact with caustic gases. The tunable laser is not confused by the changing gas matrix.
For H2S analysis, the TDL-based analyzer measures sour gas headed for processing, and sweetened gas coming out. Because it provides faster readings, process control is improved by instantly letting the operators know how much processing is needed. Also, when exit gases do not meet specifications, shutoff can be performed immediately, while false alarms and unwarranted shutdowns can be virtually eliminated.
In addition to enhanced accuracy and process control, the TDL-based H2S analyzer offers consistent repeatability as well as low operational costs. This greatly reduces the cost of ownership and virtually eliminates technician support while providing accurate and stable calibration throughout the life of the analyzer. Each SpectraSensors unit is preset at the factory, so it is truly "plug and play" and requires little training.
"While initial purchase price is somewhat higher, the reduced operating costs of this technology are likely to overcome this initial investment quickly," Miller says. "These devices can run for years without requiring maintenance, recalibration or replacement. Therefore, costs such as analyzer technicians, repair or replacement of probes, as well as an inventory of spare sensor heads are eliminated."
Miller adds that the TDL-based gas analyzer has become the de facto standard in the natural gas industry, where producers, processors and pipeline operators have been upgrading to this technology for several years.
SpectraSensors, Inc., headquartered in Rancho Cucamonga, California, is a leading manufacturer of optically based gas sensors for the industrial process and environmental monitoring markets.
For information contact: Sam Miller, SpectraSensors, Inc., 11027 Arrow Route, Rancho Cucamonga, CA 91730; Phone (800) 619-2861; Fax: (909) 948-4142 or visit the web site: http://www.spectrasensors.com
# # #