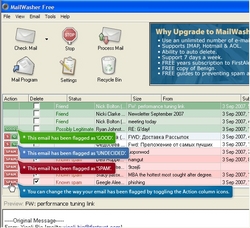 Christchurch, New Zealand (PRWEB) January 10, 2008
Firetrust Limited, provider of award-winning anti-spam and email security solutions, today announced the latest release and major upgrade of the free version of MailWasher, a uniquely designed spam filter tool that provides additional protection for businesses and home users from unsolicited and unwanted emails. The ever-increasing rise in spam has prompted both business users and consumers to desperately find a solution that can keep pace with spam as it rapidly evolves. MailWasher Free 6.1 provides individual users with enhanced spam tools to ensure spam blocking is accurate and efficient from the beginning of use.
MailWasher's unique ability to remove spam before it gets to your computer has converted many users around the world. Over 8 million people now use MailWasher," says Mr Bolton, creator of MailWasher. "Many of them find it becomes one of the most useful programs on their computer."
"We upgraded the free version so many of the features of the pro version of MailWasher are now in the free version," says Mr Bolton. "Functionality wise, MailWasher Free limits users to one email account, no auto deleting of spam, no FirstAlert! spam database access and no support for free users. Otherwise the functionality is the same as the pro version of MailWasher. We wanted to give all users a better choice when selecting a spam filter".
MailWasher Free, the next generation of award-winning anti-spam software, has evolved to a more intuitive, convenient and easy-to-use tool by providing a better email experience to users with the addition of updated anti-spam tools, a recycle bin, preview pane and a completely new look.

A new look not only improves the user experience, but in addition, the anti-spam learning tools are enhanced with the addition of Action buttons the user can quickly classify email as 'Spam' or 'Good'. MailWasher Free quickly learns and delivers you a robust and efficient approach to controlling your spam problem.
Recycle Bin -- If users accidentally delete a message, they can quickly retrieve that message.
Preview Pane -- Users can now see all aspects of an email before it gets to their computer, from the actual links in the email to other hidden information. This is especially useful in determining if an email is a phishing email.
MailWasher Free is the easiest-to-use and most effective spam filter available. Unlike other anti-spam solutions, which are integrated into the e-mail client, MailWasher Free works outside the e-mail client, so users benefit from its powerful protection without downloading unwanted messages or viruses. Users can preview and delete email before it gets to their computer.
By reviewing and deleting content at the e-mail server, users are protected from objectionable content including graphics, web bugs are rendered inactive, bandwidth is protected, and viruses and malicious scripts are stopped from spreading. Also, phishing emails show the fake URL in an email so the users can avoid being tricked in to thinking a phishing email is valid.
Presently, MailWasher Free is available for stand-alone PCs and laptops. An enterprise version of MailWasher for use on server networks is available as an open source free product and plugs in to popular mail servers such as Sendmail, QMail and Microsoft Exchange at http://www.firetrust.com.
System Requirements and Availability
MailWasher Free 6.1 is available as a download from the website at http://www.mailwasher.net MailWasher Free costs nothing. MailWasher Free minimum system requirements include Microsoft Windows 98, Me, NT, 2000, XP and Vista operating systems. It is compatible with all POP3 e-mail programs, including, Microsoft Outlook™ and Outlook Express™, Netscape™ and Eudora™; AOL, IMAP, MSN and Hotmail e-mail accounts.
About Firetrust Limited
Established in 2000, Firetrust provides world-class e-mail security products for business and home users. Firetrust delivers solutions across the spectrum of inbox protection, including MailWasher Free and Pro for unsolicited commercial e-mail (spam). The company is privately held and headquartered in Christchurch, New Zealand. For more information, please visit http://www.firetrust.com and http://www.mailwasher.net
MailWasher® is a registered trademark of Firetrust Limited.
###