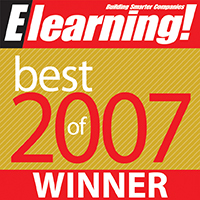 New York City, NY (PRWEB) January 10, 2008
Articulate, the market leader in rapid e-learning software, was recognized today with three winning awards in the "Best of 2007 Elearning! Magazine Readers Choice Awards" competition. Articulate Presenter was chosen by readers as best authoring tool and also as best presentation tool. Articulate Quizmaker was chosen by readers as best assessment tool.
Articulate received more awards than any other authoring tools company. Articulate Presenter also received top honors in the 2005 and 2006 competitions.
Readers and professionals from hundreds of organizations nominated and cast ballots for the best e-learning solutions providers across twelve product categories between September 1st, 2007 and November 30th, 2007. Each ballot was reviewed and validated by the Elearning! Magazine editorial team and vendor ballots were voided.
"The Best of Elearning! Awards are unlike any hosted in this market," reported Jerry Roche, editorial director of Elearning! Magazine. "Every brand and product was reader nominated and the finalists are the leading vote earners from each product category."
"We're thrilled that Elearning! Magazine readers have consistently chosen Articulate software as best," said Adam Schwartz, president of Articulate. "Every day we hear how Articulate's products are changing the way organizations train their employees, students, and partners and these awards clearly point to Articulate's impact on e-learning.
About Articulate:
Articulate is the market leader in rapid e-learning software. Articulate products are used by organizations worldwide to quickly create rich and interactive learning content and communication resources. The company's Rapid E-Learning Studio Professional combines three premier products, Articulate Presenter 5, Quizmaker 2 and Engage, to give learning professionals and subject-matter experts an easy-to-use toolset to create e-learning courses, presentations, quizzes, and surveys. Morgan Stanley, FedEx, Dell, Target, 3M, John Deere, and Harvard Business School are among the thousands of corporate, government, and academic organizations currently using Articulate products for rapid e-learning. Articulate was ranked the 15th fastest growing technology company in North America by Deloitte on their 2006 Technology Fast 500 Rising Star list.
About Elearning!:
Elearning! Magazine, e-zine, Elearning! E-News, Elearning! Alert, Elearning! Virtual Trade Show and Web site are produced by B2B Media Company, a privately held trade publishing and electronic media company. Elearning! brands are produced by B2B Media Company's trade publishing unit. To learn more, visit http://www.elearning.b2bmediaco.com.
###