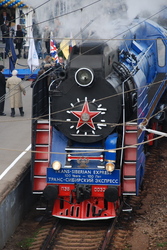 The World's Top 25 Trains are based on our own experience and that of our writers, editors, members and staff
Louisville, KY (PRWEB) January 10, 2008
What does Europe's very dignified grande dame, the "Venice Simplon-Orient-Express," share in common with India's wheezing, narrow-gauge geezer, the 100-year-old steam "Toy Train"?
They're both members of a select group; namely, "The World's Top 25 Trains," as determined by The Society of International Railway Travelers.® An organization of travelers who love the comfort and romance of great trains, the Society celebrates its 25th year in 2008.
Some on the list are over-the-top luxury, such as the all-first-class "Golden Eagle Trans-Siberian Express," Rovos Rail's "Pride of Africa" and India's "Deccan Odyssey." Others offer the most stylish and comfortable way to see less-developed regions, such the world's newest private train, the "Danube Express," which offers week-long, rail-based "cruises" through Central Europe.
Per-person prices for these mostly private-train tours range from $2,895 for a week in Mexico's Copper Canyon aboard the "Sierra Madre Express" to $26,500 for a 16-day Vancouver-Montreal excursion aboard the exclusive "Royal Canadian Pacific," which hosted the likes of Sir Winston Churchill, King George VI, Queen Elizabeth--and Bill Gates.
Following, in geographical order, are the winning trains and principal countries or areas of operation:
North America
1) Canadian (Canada)
2) Royal Canadian Pacific (Canada)
3) Canadian Rockies Steam Express (Canada)
4) Rocky Mountaineer (Canada)
5) GrandLuxe Express (US)
6) Sierra Madre Express (Mexico)
South America
7) Andean Explorer (Peru)
8) Hiram Bingham (Peru)
Africa:
9) Blue Train (South Africa)
10) Pride of Africa (Rovos Rail) (South Africa)
Asia/Indian Subcontinent
11) Palace on Wheels (India)
12) Eastern & Oriental Express (SE Asia)
13) ShangriLa Express (China/Tibet)
14) Toy Train (India)
15) Deccan Odyssey (India)
Europe
16) Danube Express (Central Europe, Turkey)
17) Al Andalus Express (Spain)
18) El Transcantabrico (Spain)
19) Golden Eagle Trans-Siberian Express (Russia)
20) Venice Simplon-Orient-Express (Europe)
21) Glacier Express (Switzerland)
22) Royal Scotsman (Scotland)
"Down Under"
23) Ghan (Australia)
24) Indian Pacific (Australia)
25) Sunlander (Australia)
"The World's Top 25 Trains are based on our own experience and that of our writers, editors, members and staff," said Eleanor Hardy, Society President. The selections were announced in a Special Edition of the The International Railway Traveler© magazine: The IRT Society's Best-Loved Railway Journeys - 2008.
"The trains met stringent standards for service, accommodation, scenery, itinerary, off-train experiences and passenger enjoyment. Trains cannot pay to be included in this book: we choose them," Hardy said.
The IRT Special Edition includes complete descriptions of each of the Top 25 trains: their compartments and public spaces, equipment used and preferred routes. The cover price is $35, but the publication is available free of charge through April 30 for inquiries made directly to the IRT Society office.
The Society is a membership organization whose benefits include an annual subscription to The International Railway Traveler. Regular annual U.S. membership dues are $85 ($95 for Canada; $105 elsewhere).
To join, contact The Society of International Railway Travelers®, 2010 Edgeland Ave. #100, Louisville, KY 40204; telephone (502) 454-0277 or (800) 478-4881; fax (502) 458-2250. The web site is http://www.irtsociety.com.
###