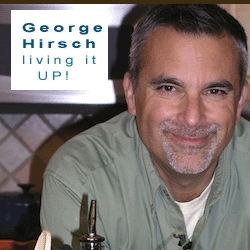 George Hirsch Living it UP!
New York, NY (PRWEB) January 10, 2008
Just in time for Super Bowl XLII, George Hirsch is sharing his expert party plan to create a winning event right at home. Based on recipes and tips from his best selling cookbooks and popular lifestyle TV series "George Hirsch Living it UP".
George's inspiring ideas, coupled with his easy savory recipes, will make your GameDay celebration one that family and friends will talk about well after GameDay.
George's GameDay Party Plan will guide you from the pre-game; such as shopping, menu preparation and recommendations of what foods to serve through out the game. Even if the game goes into over time, George has you covered.
George's Suggested GameDay Party Tips:

Prepare all hot foods one day ahead and refrigerate
Have all finger snacks out before guests arrive
Heat and serve all hot foods one hour before kick off
Serve sandwiches and cold foods at half time so you do not miss any action
Serve coffee and desserts at the end of the third quarter, when you close the bar
Send guests home with George's freshly-baked Brownie Cookies as a souvenir of your GameDay party
George's GameDay Sample Recipe:
GEORGE'S '60 Second' GUACAMOLE
Makes 1 cup
A ripened avocado will have a sweet aroma and be soft to the touch. This versatile, flavorful dish that is easy to make, only 60 seconds to mix once you have the ingredients chopped.
2 ripe avocados, room temperature
Juice of two limes
2 Tablespoons sweet onion, chopped fine
2 cloves garlic, minced
1 jalapeno, deseeded and chopped
2 tablespoons of chopped cilantro
hot sauce and salt to taste
Press onion and garlic into the side of a medium size bowl with a pinch of salt. Slice avocados in half, remove the seed and scoop out avacado meat from skin with a large spoon. Roughly mash avocado in bowl.
Squeeze the lime juice over the entire avocado. Add chopped jalapeno, chopped cilantro and hot sauce. Toss and serve immediately.
George's GameDay Menu:
Cane Charr Shrimp
Chicken Chipolte Tostadas
BBQ Pork Sandwiches, easy do ahead
George's 60 Second Guacamole
Artichoke Calzone
Chipolte Chili
Smoked Sausage in a Jam Sauce
Chocolate Brownie Cookies
Access your successful party plan with George Hirsch's GameDay winning recipes & tips:
http://www.georgehirschliving.com/recipes/superbowl.html
To schedule an interview with George
About George Hirsch, CEC, CCE, AAC
George Hirsch is the host of the syndicated television series "George Hirsch Living it Up". In Fall 2008 "George Hirsch Living it UP!" releases its sixth season in syndication. The TV series highlights food, travel, recreation and home.
As a five-time best selling author, lifestyle expert George Hirsch has reached a global audience through U.S. Syndication, his nine previous PBS series for more than a decade.
About "George Hirsch Living it UP!" TV series
# # #