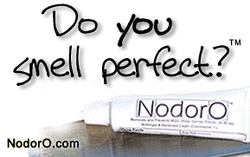 The global market potential in even greater than the U.S market, (based on statistics) due to the greater amount of uncircumcised males outside the U.S. MGO affects men of different ages. It is more likely to occur to men who are not circumcised, due to the moist environment between the foreskin and the glans, which is a favorable ground for development of fungi cells
Miami, FL (PRWEB) January 11, 2008
Synerfied Healthcare reached an agreement on Thursday with a private investment firm to bring NodorO™ to the international market, after sales spiked soon after its launch a week ago. NodorO™'s brand was specifically created to remove and prevent MGO (Male Genital Odors) and can be obtained immediately without a prescription exclusively on ismellperfect.com. NodorO™ is a safe and effective OTC (Over The Counter) medicated cream developed in accordance with an FDA approved monograph.
President/CEO and NodorO™ Creator, Dominic Adams will retain full ownership of Synerfied Healthcare which primarily targets sales of NodorO™ in the U.S. market, and will enter a distribution's agreement with the newly created global company, Synerfied Healthcare International LLC.
Synerfied Healthcare International LLC. Primary target will be Latin America, with an initial focus on Brazil, Colombia and Mexico. Adams will be involved with all executive decisions, but all development, operations, sales and marketing will be handled by his partners.
"The global market potential in even greater than the U.S market, (based on statistics) due to the greater amount of uncircumcised males outside the U.S. MGO affects men of different ages. It is more likely to occur to men who are not circumcised, due to the moist environment between the foreskin and the glans, which is a favorable ground for development of fungi cells," says Adams. "The WHO (World Health Organisation) stated in 2006, that approximately 70% of males are not circumcised worldwide.* So we are looking at a potential market of 1,522,223,863** individuals who are at a high possibility of having MGO."
"Unlike other products such as scented oils and perfumes, NodorO™ does not mask or cover up the smell; it destroys, removes and prevents odors. Our branding efforts will be to bring awareness of our product to the world, but also to normalize this condition. It is no different than any other maintenance product such as mouthwash for bad breath. With time, the general public's opinion in addressing MGO will be the same as any casual hygiene maintenance practices," says Adams.
NodorO™ will continue to be manufactured in the U.S and exported to the targeted Countries. "We are proud to be manufacturing NodorO™ in the United-States. We value quality and wish to continue contributing to the U.S. economy by producing NodorO™ domestically. And it will remain that way. It is not always about maximum profit. I do not believe in putting a product on the market, for the sake of creating sales. This product changed my sexual life, which is why I believe in it 100%, and it is also why I am so excited to be able to help so many men with a problem, that used to be solution less."
NodorO™ is available for ordering on our website at: ismellperfect.com
OR
You may call us with questions on our product at 1-877-8-NODORO.
Synerfied Healthcare is a division of Synerfied Capital Inc. a company that specializes in diversified investments.
Media Contact:
Synerfied Healthcare
Media Contact
10 SW South River Dr.
Suite# 1207
Miami, FL
305.325.1522
media@synerfied.com
**(source: indexmundi.com
*(Source: wikipedia.com)
###