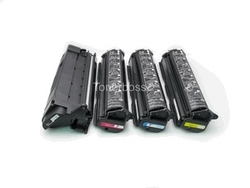 Rowland Heights, CA (PRWEB) January 14, 2008
Original toners are really expensive, especially for people who continually churn out a lot of printed material. More often than not, consumers end up paying more for the brand name rather than the product itself. Now, there is a better and definitely cheaper alternative without sacrificing product quality and ensuring that your printer always remains in tip-top condition.
Tonerboss.com is considered as one of the leaders in selling remanufactured and compatible printer toner cartridges. They have rightfully earned one of the top spots in reselling remanufactured and compatible toner cartridges due to their extensive product offering, the superb quality of their toners, and most importantly, the price of all its products.
As a company, Tonerboss.com consistently aspires to bring in the highest quality standards in all their products. To guarantee that the quality of their toner cartridges constantly remains on top, the company only chooses and handpicks the best remanufactured and compatible toner cartridges to resell. Each and every toner cartridge for HP printers as well as other brands, color and black, remanufactured and compatible, undergo the strictest quality control measure to meet utmost customer satisfaction. Thus, it comes as to no surprise that all toner cartridges, for HP printers and other brands, meet or even exceed Original Equipment Manufacturer (OEM) specifications and standards especially when it comes to quality and reliability.
Surprisingly enough, high quality remanufactured and compatible toner cartridges for HP printers do not equate to an expensive price tag. In fact, all remanufactured toner cartridges for HP printers available at Tonerboss.com are up to 70 percent cheaper than brand new OEMs or original branded toners. Even the company's compatible toner cartridges for HP printers have the best quality at the best price. Tonerboss.com is where excellent craftsmanship equals great affordability.
Tonerboss.com strongly believes in their products. All products, including the most sought after toner cartridges for HP printers, come with a performance guarantee. If, for any reason, Tonerboss.com's products fail to perform up to their promise, the defective product may simply be returned, exchanged or even refunded. Add to that, a one-year warranty applies not only to remanufactured and compatible toner cartridges for HP printers, but also to all toner cartridges that the company is selling.
To ensure that all customers need not look further, Tonerboss.com is one of the few printer toner companies with an extensive range of superb-quality remanufactured toner cartridges, made not only for older HP printer models, but also for the latest HP printers to hit the market today.
About Tonerboss.com
Tonerboss.com is the home of high quality remanufactured toner cartridges for HP printers at bargain prices. OEMs and compatible toners are also offered. The company has complete range of toner cartridges, fax toners, copier toners, as well as other popular printer toner cartridges for HP, Dell, Xerox, Brother, Canonprinters, and more. Great finds, great prices, as well as 100 percent Product Performance Satisfaction Guarantee can be found at Tonerboss.com.
# # #