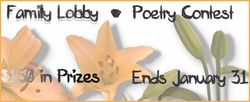 We make it fun and easy to keep every member up-to-date and share their values and traditions with one another.
Irving, TX (PRWEB) January 11, 2008
According to the old saying, families that play together stay together.
In January, FamilyLobby.com, the fun online gathering place for families, is offering a unique contest to contribute to that fun and togetherness - while awarding cash prizes at the same time. The website is sponsoring its first-ever poetry contest, and it's open to anyone who wants to write a poem on the subject of "family."
"Our goal at FamilyLobby.com is to help keep families together, no matter how far apart family members may be," said Davon Cannon, FamilyLobby.com Chief Technology Officer. "We're dedicated to providing a safe and inviting place where our members and visitors can stay in touch, play games, read meaningful articles, and pass along their family traditions, and this poetry contest is one more great, fun way of doing that," he added.
The first and second place winners in the contest will receive cash prizes. For first place, the winner will receive $100 plus have his or her signature posted on the site. Second place will earn $50 and a signature. There's no cash prize for third place, but that winner will receive an online signature and a "custom title," which is a text box where the winner can have whatever he or she wants.
The only rules are that the poem must be written by the entrant, it must be age-appropriate, and entries are limited to two per person.
Anyone interested in entering the contest just needs to visit the site at FamilyLobby.com or click this link: http://forums.familylobby.com
According to Cannon, the real purpose of the site - and the contest - is to make sure the site's visitors and members have an opportunity to spend quality time together no matter where they're located or how busy their lives have become. He noted that members can also build their own family website at FamilyLobby.com. "We feel everyone should have the opportunity to privately and securely share pictures, news, and more with their family wherever they live," he said. "We make it fun and easy to keep every member up-to-date and share their values and traditions with one another."
And now, for poetry lovers, it's providing a chance to share their writing, compete for a prize, and ultimately keep what's really important in mind.
###