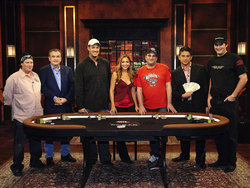 Las Vegas, NV (PRWEB) January 11, 2008
This week's match on NBC's Poker After Dark features six of the brashest talkers in the game, and is dubbed "Hecklers Week." Those competing for the $120,000 winner-take-all first prize are Phil "The Poker Brat" Hellmuth, Mike "The Mouth" Matusow, Shawn "Sheiky" Sheikhan, Gavin Smith, Jean-Robert Bellande, and Sam Grizzle. The table talk is not for the faint of heart, and if poker shows were given ratings similar to motion pictures, this one would definitely be rated "R" for mature audiences. You have to give the producers credit for even having the guts to put this table together, given what could happen.
This match promises banter between the players the likes of which may never have been heard before on television. An hour before the match even started, several of the players were in each other's faces doing their best to put the others on tilt before the match even began. The show has the potential to surpass all records for number of bleeps done during editing, making one wonder what had to be left on the cutting room floor.
Bellande and Grizzle are making their first appearance on the program. Jean-Robert recently appeared on the CBS reality show Survivor: China, where he used his bullying influence successfully for a period of time before finally getting bounced. Sam is a legend among Las Vegas poker players, and is considered one of the funniest players in the game along with being Phil Hellmuth's nemesis. The two once took their differences at the poker table outside, where it is rumored there were only 2 sounds made….one of Grizzle's fist hitting Hellmuth's face, and the other of Hellmuth hitting the ground.
Smith is fresh off of a victory on PAD, where he was bleeped 3 times alone in the first 30 seconds of the match. Hellmuth too is coming off of his first victory on PAD, so you know they'll both be eager for consecutive victories. Sheiky is a former PAD winner also, and with Hellmuth's victory in Match 21, Matusow now holds the worst record on the show at 0-6. To say all are hungry for a victory in this match would be an understatement, but the real question is how far each of them will go with their trash talk in an effort to push each other's buttons to try and gain the upper hand.
Brief profiles of all six players follow. The match will begin airing on NBC late night Monday at 2:05 AM, January 14, and will continue for five consecutive nights in the same time slot. A special program called the "Director's Cut" will air late night Saturday, January 19, at 1:00 AM, right after Saturday Night Live. This show will feature Marianela with a behind-the-scenes look at the week with highlights and insightful player interviews. For Marianela's sake, let's hope she brought earplugs to this match!
Each of the match's six segments can also be viewed daily at http://www.nbcsports.com/poker. Be sure to check out the new player profile section, which now includes the players from all of PAD's three seasons, as well as their past performance records on PAD and NBC's National Heads-Up Poker Championship. These profiles are updated on a weekly basis. A detailed profile of new program host Marianela can be found there also. Additional information on the players is also available at http://www.pokerafterdark.com.
Smith, Gavin: (Seat 1)

Holder of 1 WPT title, and was the WPT's Player of the Year for season IV
Career tournament winnings in excess of $3.76 million, and ranks 46th on the all-time money list
Grizzle, Sam: (Seat 2)
Known for his quick wit and even quicker temper
Lifetime tournament winnings in excess of $1.18 million
Bellande, Jean-Robert: (Seat 3)
Considered one of poker's bad boys due to his propensity to engage in trash talking at the table
Career tournament winnings in excess of $764,000
Matusow, Mike: (Seat 4)
Winner of two WSOP bracelets
Lifetime tournament winnings in excess of $5.95 million, and ranks 20th on the all-time money list
Sheikhan, Shawn: (Seat 5)
Known for talking smack at the tables, and one of the game's most confrontational players
Career tournament winnings in excess of $1.36 million
Hellmuth, Phil: (Seat 6)
1989 World Champion, and won his 11th World Series bracelet in 2007, making him the first person in history to do so
Career tournament winnings in excess of $9.58 million, and ranks 5th on the all-time money list
This press release was written by Dennis Oehring, who is associated with the firm POKER-PROductions. Statistical information courtesy of The Hendon Mob database. Photo courtesy of NBC's Paul Drinkwater.
###