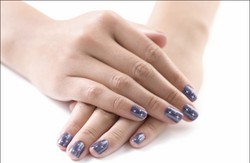 Torrance, CA (PRWEB) January 14, 2008
For moms of teens and tweens hosting girl parties, there comes a time when balloons and crafts just aren't enough and when body piercings and tattoos are still too much. So what's a mom to do who's looking to throw an unforgettable party, so a birthday, slumber party or other get together isn't just a ho hum occasion?
Savvy moms, who know how they like to be pampered, are turning simple girl parties into "gotta-go" events. They're helping their daughters and their closest friends release their inner divas with the latest party idea: a home, salon-style nail art kit. At these girl parties, the thrill isn't only personalizing and accessorizing the look of nails. It's a bonding experience between friends, a playful way to self-express, make a statement, and show the world they're coming of age.
One favorite of girl parties, for instance, is Nail Art Diva!TM whose Diva Basics SmartStart Kit provides everything girls need for attention-getting, salon-style nail art in a matter of minutes. The basic kit offers hundreds of design options -- from hearts, stars, moons, flowers, and snowflakes to sparkles, cats, dogs, bunnies, and butterflies -- using a unique fantasy nail coloring design machine that presses single and multi-color nail designs onto each girl's nails, customized to their preferences.
The Nail Art Diva!TM SmartStart nail art kit includes five art templates with 29 designs, six bold specially-formulated color polishes, a bottle of protective topcoat that is required to protect the nail art designs up to 7-10 days, and an expandable nail polish stand that holds up to 10 nail art polishes including the top coat. To get salon-style decorated nails in minutes, girls simply choose their design, polish color or colors, and decorate their nails. There is plenty for everyone as the Diva Basics SmartStart kit can be used over and over. Only need a tiny splash of nail art polish color is needed to create the perfect look.
While the fun and bonding comes from each girl helping the others find their signature look, many girls like to trade, mix or match nail designs, polish colors, decals, or accessories to personalize their designs by season or theme. Though seasonal enhancement kits such as Autumn Enchantment, Winter Bliss (available Winter 2008), and Spring Rhapsody (available Spring 2008), and Summer Sensations (available Summer 2008) multiply the possibilities, Special Edition themed enhancement kits such as Christmas Dazzle, Glam & Glitter, Declarations of Love, or even Dark Seductions (spiders, crosses, lightning bolts, etc.) can be even more fun.
With ten fingernails for their artistic canvas, each girl has plenty of room to experiment with her look at girl parties, and dreaming up new designs can be a fun spa party idea for older or younger sisters as well. To remove their handiwork and start over, however, they simply apply nail polish remover. When their perfect look is achieved, they can apply topcoat and their masterpieces are protected for about 7-10 days. Much better and more temporary than a tattoo or nose ring, as most moms will agree.
For more info, contact:
Nail Art Diva!® LLC
117 Geneva Road
New Bern, NC 28562
Phone (800) 960-9618
http://www.nailartdiva.com
###