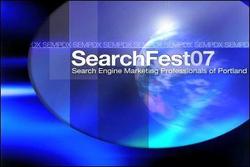 There is an abundance of Search Marketing talent in the Pacific Northwest
Portland, OR (PRWEB) January 14, 2008
Search Engine Marketing Professionals of Portland (SEMpdx) officially announced SearchFest 08, the Oregon's largest conference dedicated to search engine marketing (SEM). The full-day conference will feature multiple expert panels to help businesses leverage SEM to increase awareness and revenue. The conference will take place March 10th, 2008 at the Oregon Zoo Conference Center in Portland, Oregon. For more information about the event, or to register, visit the Searchfest Registration Page.
The event brings together search industry experts from the Pacific Northwest and beyond, including executives from Google, Yahoo and SEMPO. In addition, SEOmoz CEO Rand Fishkin will be the keynote speaker, discussing "The Algorithmic Evolution of Search Engines & Impact on SEO Campaigns." See the complete conference schedule here.
"We've set a high bar for SearchFest based on the 2007 event," stated Kent Lewis, SEMpdx President. "With more out-of-town presenters and a top-notch venue like the Oregon Zoo, we look forward to an even more successful SearchFest in 08."
SearchFest 2008 is open to all SEM professionals and anyone in the general business community interested in maximizing their success with SEM. The full-day conference will cover a wide range of topics including social media, B2B SEM, affiliate marketing, search engine optimization, pay-per-click and online reputation management. Attendees will range from corporate executives and Web marketers to Web-based and traditional business owners and agency professionals.
"There is an abundance of Search Marketing talent in the Pacific Northwest," adds Todd Mintz, SEMpdx Board Member. "Searchfest 08 is a tremendous opportunity for business & search industry professionals to learn from and interact with SEM 'Thought Leaders,' many of them Northwesterners, in a small venue setting."
A sampling of industry expert speakers includes: Stoney deGeyter, Matt McGee, John Andrews, Dan Harbison, Paul Colligan & Rebecca Kelley. Register Now. For more information about SearchFest 08, please visit our Searchfest Registration Page or email info @ semportland.com.
About SEMpdx
Headquartered in Portland, Oregon, SEMpdx is a 501 c6 dedicated to nurturing the development of search engine marketing (SEM) in the greater Northwest. SEMpdx provides a resource for local professionals and businesses interested in leveraging SEM to enhance their career and bottom line. SEMpdx's mission is to improve the quality of work and life for SEM professionals as well as elevate Portland's profile on a national scale as a hotbed of SEM talent. The organization hosts monthly events, including Hot Seat, where local businesses can get valuable tips on how to increase awareness and revenues via SEM. The organization also supports one non-profit charity organization each year, both in terms of resources and cash donations. The charity of choice for 2008 is Donate Life Northwest, an organization that promotes organ donation in Oregon and Washington. For more information about SEMpdx, visit the SEMpdx Website and read the SEMpdx blog .
###