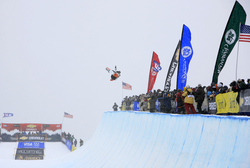 Having a pipe this big really does a lot for the progression of the sport. The crowd was awesome and just everything about being here was so good.
Tamarack, Idaho (Vocus) January 11, 2008
Tamarack Resort is gearing up to welcome back the country's greatest snowboard competition series, the 2007-08 Chevy U.S. Snowboarding Grand Prix. On February 9-10, U.S. Olympic medalists, X Games champions and world-class snowboarders go head-to-head at Tamarack on a 22-foot Olympic-sized SuperPipe and on a specially-constructed snowboard cross course.
Thousands of Idahoans turned out to cheer on the top-notch snowboarders during the Grand Prix's inaugural visit to Idaho last February. After winning the pipe competition at Tamarack, Olympic silver medalist Gretchen Bleiler remarked, "Having a pipe this big really does a lot for the progression of the sport. The crowd was awesome and just everything about being here was so good."
So the call is out to all Idahoans to show up and turn up the volume for a literal Who's Who of snowboarding. In addition to Bleiler, riders scheduled to compete at Tamarack include Olympic medalists Hannah Teter, Kelly Clark, Lindsay Jacobelis and Seth Wescott, along with X Games medalists Steve Fisher, Scotty Lago, and Idaho native Nate Holland.
"The field of athletes for the Grand Prix brings together the best group of snowboarders out there, with young riders on the scene going head to head with seasoned pros," said Ken Rider, Tamarack's Director of Resort Sales and Marketing. "With the nearly eleven feet of snowfall we've received since December and the level of competition headed our way – Tamarack is the place to be for big powder and big air!"
The 22-foot Olympic-sized Hells Canyon SuperPipe is almost ready for riders. Tamarack's mountain operations team is starting to build the pipe, in hopes of opening it within the next week.
To help fans get to the resort, Tamarack will be running shuttles from Boise and throughout the Payette River Mountains during the course of the competition. Keep checking http://www.TamarackIdaho.com for the latest Grand Prix details.
Grand Prix Event Schedule at Tamarack Resort
February 8 8:30am – 9:30am Men's HP Practice
9:30am – 2:00pm Men's HP Qualifiers
9:00am – 2:00pm SBX Practice
2:00pm – 3:00pm Women's HP Practice
February 9 9:00am – 12:30pm SBX Practice
9:00am – 9:30am Women's HP Practice
9:30am – 11:30am Women's HP Qualifiers
February 9 12:30pm – 1:15pm HP Finals Practice
1:30pm – 3:00pm HP Finals
Awards Immediately Following
February 10 8:30am – 9:00am SBX Practice
9:00am – 1:00pm SBX Time Trials
1:30pm – 3:00pm SBX Final Heats
Awards Immediately Following
The 12th Grand Prix series kicked off in Breckenridge Resort, CO December 14-15, heads to Tamarack February 9-10, before concluding at Killington Resort, VT on March 15-16.
If you can't make the full weekend of competition – NBC will air the Tamarack stop of the competition on February 16.
For More Information:
Jessica Flynn, Communications Manager
Tamarack Resort
208.830.4037
jflynn(at)tamarackidaho.com
###