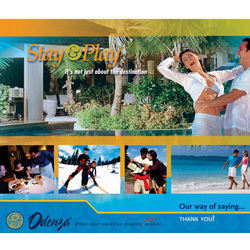 Burnaby, BC (PRWEB) January 11, 2008
Odenza Marketing Group announced the launch of a new Fairmont Vacation Incentive early this morning. The Fairmont Vacation certificate entitles recipients up to three nights accommodation for two adults in either Fairmont Hot Springs or Kelowna, British Columbia.
"Developing a new product that focuses on luxury resort stay in British Columbia will give people who are planning to visit Vancouver, British Columbia during the 2010 Winter Olympics an opportunity to explore the area before the Olympic rush. The resorts are located along the shores of Okanagan Lake and in the heart of British Columbia's breathtaking Columbia Valley, also known as our recreational wonderland. Activities include golfing, skiing, hiking, swimming, wine tasting and sightseeing. The resorts we've selected are right next door to everything, including the majestic Rocky Mountains." says Pav Sangha, Director of Marketing.
The Fairmont Vacation is ideal for use in consumer promotions as a closing tool or as a referral generator designed to increase sales.
The International Congress and Convention Association (ICCA), has ranked Vancouver, British Columbia as North America's top destination for international meetings. Vancouver outperformed Seattle, New York, Boston, San Francisco, Montreal and Toronto. This ranking confirms Vancouver's reputation and appeal among international meeting planners. As well, we know that at least 25 percent of those who come to Vancouver go on to visit other parts of the province creating a significant economic benefit to all of British Columbia.
Vancouver, British Columbia had also topped the list of the Economist Intelligence Unit (EIU) Global Livability Rankings. A ranking such as this is a real statement about the desirability of British Columbia being a preferred destination. The elements that make Vancouver such a great place to live translate into making this a safe, exciting and welcoming place for visitors.
We are confident that this Fairmont Vacation Incentive will be a popular choice by companies from coast to coast, especially considering that we're approaching the Winter Olympics within 2 years time.
For more information regarding this Fairmont Vacation Incentive please call 1-800-515-5371 or visit http://www.odenza.com
About Odenza Marketing Group Inc.
Odenza Marketing Group proudly serves some of the most prominent companies from all sorts of industries. We provide quality incentive marketing solutions that give our select clients a competitive edge in their market. Over the years,Odenza has developed strong relationships with its partners giving it the loyal and extensive client base that has proven to be an integral component in Odenza's success. As a leader in the premium and incentive industry, Odenza has proven to be the number one choice by consumers with a staggering 92.5% customer retention rate. Odenza is here to help you reach your goals.
Contact:
Pav Sangha, Director of Marketing
Odenza Marketing Group Inc.
1-800-515-5371 ext: 234
E-mail: psangha ( @ ) odenza dot com
Corporate website: http://www.odenza.com
Travel booking website: http://www.odenzavacations.com
###