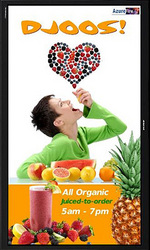 We're not just selling hardware
Las Vegas, NV (PRWEB) January 12, 2008
AzureFire Digital Signage announces the opening of their new Hospitality Digital Signage division in Las Vegas, NV. According to founder Helmut Kuhn, "The division was created to help industry clientele capitalize on a technology that can truly take them to the next level via content-rich, highly flexible, customized advertising."
One of the key advantages of digital signage in the hospitality industry, says Kuhn, is that guests receive valuable, up-to-the-minute information on entertainment, special events, products, and services right at the moment they are making buying decisions."
A Vienna native, Kuhn is a multi-talented Audio Visual Designer and Engineer. His professional background includes AV designs for major casinos and hospitality groups in Las Vegas and Atlantic City, and for various venues throughout California. He is also renowned for his state-of-the-art Race & Sportsbook AV designs.
Kuhn believes the digital signage revolution is just getting underway. The technology driving digital signage and its infinite applications is growing at break-neck speed to meet the ever-growing demand for fresh, innovative and cost-effective means of communication and information distribution. In fact, InfoTrends/CAP Ventures, Inc., the leading worldwide market research and strategic consulting firm for the digital imaging and document solutions industry, forecasts digital advertising to reach $3 billion by 2010.
Las Vegas, considered by many to be the country's digital signage capital, is setting the pace and raising the bar when it comes to new usages for the technology. Early adopters of digital signage, such as major Las Vegas casinos, have proven that digital signage is an exceptionally effective, targeted and impactful form of marketing, as well as a potential new revenue source, according to Kuhn.
Imagine this scenario:
A techno-savvy executive named Amy is on a business trip. You own 25 hotels and she's checking into your Los Angeles location today. A doorman greets Amy upon arrival and whisks her toward check-in. Along the way, she passes an attention-grabbing digital sign featuring a jazz band playing in the lounge tonight. Amy makes a mental note to go. At check-in, a digital sign behind the counter invites visitors to indulge in some relaxing spa time. Amy makes a massage reservation and inquires about dining options. At the push of a button, the friendly check-in person cues a brief digital ad featuring restaurants in the hotel. Another reservation is made, this time for Amy and a party of six. The efficiency of digital signage makes check-in breeze by for Amy and she's soon on her way to the suite. A digital sign at the elevator catches her eye. It features information about the well-equipped business center - lucky for Amy since she needs to get a package out this afternoon. Another digital ad cross-promotes your hotels in Chicago, Miami and Boston. What a coincidence, Amy is planning a winter conference and Miami would be the perfect place.
Dena Mara, Art Director, says, "Digital signage is really an in-the-moment sales tool. You grab people's attention with compelling content, hold them, and share a great deal of information quickly. This is unlike the static, traditional print signage we're bombarded with everyday. Print advertising takes time to design, write, print, deliver, and distribute - sometimes it's almost time to start the process over by then."
Studies back that up, showing that viewers are much more likely to engage and retain information they can both hear and see moving. A study conducted by OTX, a global consumer research and consulting firm, reported 63% of adults indicated that advertising on digital signage "catches their attention." The study also concluded that people view digital signage to be more unique, entertaining and "more effective in capturing people's attention than any other media."
"At Hospitality Digital Signage, we make the process simple for clients," Mara comments, adding, "We create a very user-friendly, customized system that our clients can either purchase and maintain themselves; buy and let us handle the network operation and content; or lease and we maintain the entire system and content."
Once the system is installed, it is simple for even the most non-technical person to log into a fully secure system and make text changes and post messages, which is an exceptional benefit when real-time messaging is imperative. Postings can be made from a cell phone, iPhone, web browser or sophisticated, integrated automation systems. Content may be mixed with announcements of specific events, live feeds: news and entertainment, stock updates, sports, weather; or any content the client desires. Projects of virtually any size and scale are possible. And, thanks to a very efficient, AzureFire-designed software template, estimating a custom digital signage system only takes a few minutes.
"We're not just selling hardware," Kuhn says adamantly, "We're offering a turn-key package - a complete system including custom content - that allows clients to benefit from this rapidly advancing technology and our expansive array of creative development resources. It's our ultimate goal to show clients the immeasurable creative marketing potential intrinsic in digital signage."
The team at AzureFire is comprised of a network of expert graphic designers, videographers, animators, photographers, programmers, engineers, and copywriters who understand the technology and develop targeted content designed to maximize each client's advertising potential.
For more information, to participate in a Webinar, or schedule a live demo presentation, contact Helmut Kuhn at AzureFire for an appointment at 888 702 5556. You may also visit HospitalityDigitalSignage.com for more information.
###