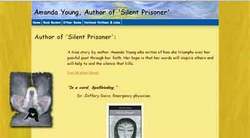 Amanda Young has offered the reader an insider's view into the world of a victim of domestic violence
Immokalee, FL (PRWEB) January 23, 2008 -
Author and child abuse survivor Amanda Young announces the release of her new book, Silent Prisoner, the true story of a survivor of child abuse and domestic violence. While the names have been changed, the story is real.
In Silent Prisoner, Young reveals her agonizing past, beginning with abuse she suffered at the hands of her alcoholic parents. Her childhood spent moving back and forth between the homes of relatives and foster parents, she soon found herself on a destructive path leading from one abusive relationship to another. In the book, Young describes how her faith in God, along with the help of some special people, allowed her to recognize her own strength and reclaim her life.
The author seeks for her book to serve as a torch to light the way to a new life for other child abuse survivors and victims of domestic violence. To this end, Young shares her faith in God and angels, allowing readers to see that they are never truly alone or unworthy of love.
"Amanda Young has offered the reader an insider's view into the world of a victim of domestic violence," said Dr. Jeffrey Davis, Emergency Physician and the Director of the Palm Beach County Trauma System. "Her incredible insight and perception makes for an illuminating, touching, and inspirational story. A flower that blooms under adverse conditions is truly the most beautiful of all."
Rather than the sorrow that many memoirs of child abuse survivors seem to project, Young instead wants to inspire hope and faith in oneself.
"I believe within everyone there is the desire for love and happiness for oneself and from others," the author said. "I want to help everyone find that. My book, I feel, offers inspiration. I encourage everyone to believe in themselves and not to give in to feelings of guilt and shame. It is my belief that the abuser is the one that should feel the guilt and shame, not the victim." Through faith in God, the author believes, victims of domestic abuse and child abuse survivors can get out into the world to survive and begin life again.
Silent Prisoner is available for sale online at Amazon.com, BookSurge.com, and through additional wholesale and retail channels worldwide. The author's website, a resource for the book and for child abuse survivors worldwide, can be accessed at AmandaYoungSight.com.
About Amanda Young:
A child abuse survivor herself, Amanda Young is now a registered nurse with a degree in homeopathy from the British Institute of Homeopathy. She received an award in excellence for nursing assessment from St. Joseph and St. Jude Home Health. She currently resides in Jupiter, Florida.
###