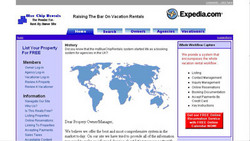 Rental agencies often charge up to 40% of rental income
Armonk, NY (PRWEB) January 14, 2008
For the nearly 2.5 million second home owners in the United States, utilizing rental agencies for vacation house rentals is becoming a thing of the past. A new rental business, myBlueChipRentals.com, seeks to move second home owners in a new direction: that is, online. With the launch of their online business and the integration of innovative internet technology, myBlueChipRentals.com now offers more efficient rental services, and hopes to move second home owners faraway from rental agencies and closer to services like their own.
Rental agencies are currently the most common method of connecting vacationers with homes, however, myBlueChipRentals.com doesn't believe that's because they are the best option.
"Rental agencies often charge up to 40% of rental income" in service fees, says Graham Kennett, CEO of myBlueChipRentals.com. In addition, their methods of communication are seemingly archaic compared to the up-to-the-minute data processing capabilities of the internet, and this slows the rental process considerably. myBlueChipRentals.com provides end-to-end service for vacation house rentals at a reduced cost and with increased timeliness.
"We offer the home owner and vacationer a service that covers the complete vacation rental workflow," says myBlueChipRentals.com's CTO, Siegfried Mensah. The owner receives a property listing, contact management services, reservation management services, payment options, and reviews. When a vacationer is looking for Florida vacation condo rentals, they are able to view the owner's property, an integrated reservation calendar that shows the availability of the unit in real time, as well as Google-linked, map based search and results features.
In addition, the service is free. For lifetime members, myBlueChipRentals.com will waive the charges of that Florida vacation condo rentals' property listing, the entry in the website's search results page, data maintenance, inquiry management, online reservation services, and linkable real time calendar.
"Our goal is to be the largest internet listing service for vacation rentals," says Graham Kennett, CEO of myBlueChipRentals.com, "We are a young, dynamic company looking to provide best-in-class service, and speed up the rental transaction process".
The mission of myBlueChipRentals.com is to provide outstanding service to both owners of vacation properties and the vacationers who rent the properties. They aim to facilitate a smooth and pleasurable experience for both parties, and with the official launch of their business and website, the myBlueChipRentals.com revolution is officially underway.
About myBlueChipRentals.com:
myBlueChipRentals.com is a free vacation rental site, matching owners and vacationers through a unique service that encompasses and improves the entire workflow of owners, agencies, and vacationers. For more information, please visit myBlueChipRentals.com or send an e-mail.
###