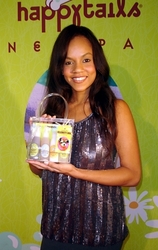 Los Angeles, CA (PRWEB) January 14, 2008
Dogs have been featured in movies, commercials and print ads since before Lassie was a puppy yet they normally don't receive the recognition they deserve. When was the last time a dog accepted an Oscar? (Dog Day Afternoon doesn't count!)
This month when the Academy announces it's nominees for Best Actor, Director and Producer one category will be conspicuously absent. Happytails Canine Spa Line will fill this void by honoring the fluffy set with its Canine Celebrity Awards. There will be two categories Best in Show- Photo and Best in Show- Video but with three winners each whose owners will each receive a vacation package valued at over $1,000.
Next year winners could be watching the Oscars in person from the red carpet in Hollywood…or Hawaii…the Virgin Islands or any one of 29 world-class destinations!
Dog owners everywhere may begin to submit photos and videos of their own Canine Celebrity along with a short essay on why their dog deserves to win. Go to http://www.happytailsspa.com to enter.
Winners will be announced at the Luxury Pet Pavilion in Los Angeles on Sunday February 24th (Oscar Day) by celebrity judge Lanease Adams, Hollywood actress and one of the bachelorettes on the first season of ABC's "the Bachelor"
Consumers can save 25% on the happytails Celebrity Dog pack. A collection of four all-natural products including Shimmering Mist, Sparkle & Shine Brightening Shampoo, Fur Breeze Aromatic Spa Mist and Dog Smog Remedy, a breath freshener and digestive solution. Enter promotion code HTCCA08 when you check out on the happytails website.
happytails donates a portion of proceeds from the sale of its products to Canine Companions for Independence, a non-profit organization that enhances the lives of people with disabilities by providing highly trained assistance dogs and ongoing support to ensure quality partnerships.
Los Angeles-based happytails sells and markets happytails spa products for the dog about town. happytails Canine Spa Line uses the finest ("better than human quality") ingredients available to pamper, soothe and beautify today's harried hound. The products can be ordered through the company website at http://www.HappytailsSpa.com or by calling 1-866-HAPPY-20.
###