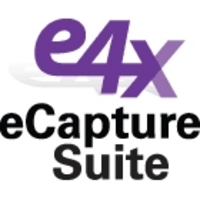 With eCapture Suite, we're changing the game in distributed document capture
Frisco, TX (PRWEB) January 14, 2008
Daybreak Intellectual Capital Solutions, Inc., a provider of enterprise content management (ECM) software and consulting services, today announced the availability of its latest release of eCapture Suite. eCapture Suite 2.0 is the industry's first integrated solution that combines distributed document capture with the ability to deliver content to multiple ECM repositories from a single interface. This release supports EMC Documentum 5.3 and 6, as well as eRoom. Support for additional ECM repositories is under way.
The product is now available for shipment to customers following successful beta trials to ensure the high quality and reliability of eCapture Suite. eCapture Suite was tested in production environments in beta trials throughout Q4 2007 at multiple Fortune 1000 companies and SMB organizations. The beta users found significant value in many of the capabilities that differentiate eCapture Suite from competing products. These include a concurrent licensing model with no page count limitations, intelligent index field mapping, and the ability to easily deliver content to multiple repositories with no custom script development.
eCapture Suite is built on a modular platform that consists of the core capture engine and ECM platform plug-ins. Additional plug-ins can be added, making it easy to capture, manage, and deliver documents into various ECM repositories. The software provides security features including secure communications, user authentication and access control to appropriate content repositories. eCapture Suite is built from the ground up for Services-Oriented Architecture (SOA) to facilitate interoperability with legacy systems within an organization.
"With eCapture Suite, we're changing the game in distributed document capture," said Kara Cleaver, Daybreak President and CEO. "Scanning and indexing is a tired story, yet an essential business requirement. We bring capture new life, approaching it from the enterprise content management (ECM) side. Users today demand efficient capture capabilities and also want to easily deliver content into their organization's document management and business processes. eCapture Suite addresses both of these areas."
Availability and Pricing
eCapture Suite is available immediately. Pricing starts at $18,000 and is based on the number of concurrent users and type of ECM plug-ins licensed. 30-day evalutation licenses are also available and may be requested by visiting Daybreak ICS.
###