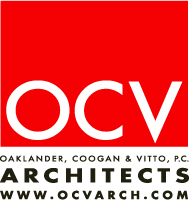 It was a pleasure and an honor to work with these two fine organizations.
New York, NY (PRWEB) January 14, 2008
At its annual Gala / Fund Raiser, SHNNY honored The Christopher residence in Manhattan and The Cornerstone Residence in Newburgh as their "Residences of the Year"-- both designed by OCV Architects.
Common Ground Community sponsored the Christopher to provide urban housing for homeless adults and for teens aging out of Foster Care. Safe Harbors on the Hudson spearheaded the partnership to build the Cornerstone residence -- an example of what a community can provide for it's neediest while revitalizing the community as a whole. This Newburgh, N.Y. residence houses families and artists as well as small businesses and a theater.
430 Network members attended the event including OCV's Richard Vitto, architect of the two outstanding projects. Mr. Vitto has been designing supportive housing for most of his 30+year career in architecture and this unprecedented SHNNY double honor is a testament to his vision.
SHNNY published a gala journal highlighting the event contributors and honorees. The journal states "The Cornerstone Residence is a stunning example of supportive housing addressing the needs of
homeless and at-risk New Yorkers. The Network is proud to honor the Cornerstone as a Residence of the Year." The Gala journal (pdf) also pointed out the timeliness of each projects' 'green' features
and went on to state: "… the Christopher is an exceptional supportive residence that brings out the best in architectural and program design to help more than 200 homeless and housing-needy residents rebuild their lives."
The projects are also extraordinary transformations of existing structures. In these cases, the rehabilitation of a former YMCA and a former grand Hotel makes these buildings examples of the
contribution cities, large and small, can expect of forgotten properties. Both projects also focus on space, light and the latest in sustainable materials, finishes and design approach, while working
within the budget constraints publicly funded developments traditionally encounter.
"It was a pleasure and an honor to work with these two fine organizations." Mr. Vitto stated. "Both projects involved complex phasing and construction organization due to the need to accommodate
existing occupancies. This coupled with the requirements of multiple programs made each project a fascinating challenge."
###