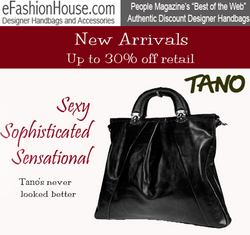 The Tano handbag has always been one of our fun, value-priced, leather designer handbags to sell
Desert Hot Springs, CA (PRWEB) January 14, 2008
Sky Valley CA. January 14, 2008 -- eFashionHouse.com announced today enhanced purchase perks and benefits for its best selling designer handbag from Tano International, Inc. "The Tano handbag has always been one of our fun, value-priced, leather designer handbags to sell," said Anna Miller, eFashionHouse Owner. And now, the Tano leather handbag ranks number one in sales among all the other expensive designer purses sold by eFashionHouse.com.
eFashionHouse.com has been reselling below-retail priced authentic designer handbags online for over twelve years. eFashionHouse was named Best of the Web by People StyleWatch, and About.com recently named eFashionHouse the top online reseller of Chanel handbags and accessories. With the rising interest in designer fashion and the high cost associated with owning a designer purse, women have become very interested in the designs, colors, leather finishes and styles made by Tano, a USA-based handbag firm.
Tano International is a family owned and operated business dating back to 1912. Tano is known for its longevity, selection of discreet resellers and product warranty. There are only a few online retailers authorized to sell Tano, and although the official Tano Site names only one online resource on their Q&A page (a paid by sponsor position), eFashionHouse.com, listed under the "Stores" category on Tanobag.com, ranks at the top of the list of Tano online resellers.
As a result of the increased Tano bag sales, eFashionHouse.com offers its online Tano shoppers enhanced purchase policies when making their Tano purchase from eFashionHouse.com. The new perks and benefits are outlined at eFashionHouse's blog entitled 'Tano Bag Blog' and located at http://www.TanoBag.net. The enhanced Tano purchase perks are summarized below.
Tano purchase perks & benefits from eFashionHouse.com:
1. the best online selection of Tano handbags, purses and wallets.
2. receive a guaranteed lowest price online.
3. special orders accepted.
4. no sales tax worldwide.
5. most USA orders ship free.
6. global shipping.
7. one-year warranty.
New Spring 2008 colors and styles will be arriving at eFashionHouse within the next few weeks. eFashionHouse is commited to serve its online Tano shoppers. Write to CustomerCare@eFashionHouse.com for more information or visit the Tano Bag Blog to read more about the information contained in this Press Release.
About eFashionHouse.com
Anna Miller is the President of i-GlobalMall.com, Inc. She operates the website http://www.efashionhouse.com and sells high-end authentic designer handbags and accessories at off-retail prices. eFashionHouse.com was named Best of the Web by People Magazine StyleWatch for Discount Designer Handbags and Purses. About.com named efashionHouse.com the top online reseller of Chanel handbags and accessories. eFashionHouse.com should not be confused with any other website selling a similar product or using a similar name. eFahsionHouse is the home of five fashion ecommerce stores: BrandsBoutique, LuxuryVintage, DesignersLA, ItalysOutlet, and ValueBags. Anna is considered an Internet Pioneer & Ecommerce Entrepreneur. She's been reselling Designer Merchandise online since the early 90s.
###