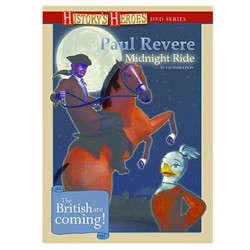 Prosser, WA (PRWEB) January 21, 2008
The Shot Heard Round the World ... The British Are Coming ... One if by Land, Two if by Sea ... sound familiar? Famous phrases all related to Paul Revere's famous ride to warn the American colonials of the Redcoats' impending arrival prior to the American Revolution. This heroic tale is told in "Paul Revere: Midnight Ride," the latest release in History's Heroes series, available on DVD Feb. 12, 2008 from American Animation Studios.
The History's Heroes series, launched in September, recounts America's greatest historical stories using the latest digital animation technologies. Devoted to young learners, the series is storytelling at its best. Each vividly computer-animated DVD tells the story of a particular American hero or heroine through colorful characters who actually talk to young viewers, instead of at them. The events and values of our American heritage are brought to life with delightful humor, vivid 3-D animation and easy-to-follow storylines -- all in a format children love, understand and can enjoy over and over.
In the series' latest title, "Paul Revere: Midnight Ride," host Ellie, a charming, emerald-eyed eagle (and niece of original host Boomer), introduces young patriots to Paul Revere, who was chosen for one of history's most important missions: ride from Boston to Lexington, Mass., and warn the Colonial Minutemen of the arrival of the British soldiers (or Regulars, as we learn they were called, therefore altering the famous alert "The British are coming" to the more accurate "The Regulars are coming).
Come along on a risky ferry ride across the Charles River past the British blockade; await the infamous "one if by land, two if by sea" lantern signal; ride by moonlight to warn the Minuteman leaders in Lexington; and rendezvous with the colonials in Concord. Viewers are with Paul every step of the way as he completes his task -- with an occasional helping hand (er, wing) from Ellie -- to prepare the American rebels for what would become the Battle of Lexington, kick-starting the American Revolution with the "shot heard round the world." The excitement of the events never wanes as the dramatic animation and narration carries us right into the heart of the action.
Aiding Ellie is Ralph Waldo Emerson, who penned "The Concord Hymn," which includes the infamous line "... and fired the shot heard 'round the world", inspired by these events. Henry Wadsworth Longfellow wrote "The Midnight Ride of Paul Revere:" "Listen my children and you shall hear of the midnight ride of Paul Revere ... one if by land, and two if by sea, and I on the opposite shore will be ..."
Each History's Heroes DVD is available for a suggested retail price of $19.95 and includes a 35-minute video program, along with several bonus features: English and Spanish subtitles, a behind-the-scenes look at how the program was made and access to the History's Heroes Web site, http://www.historysheroes.com , for profiles of other heroes and heroines, homework help and much more.
The company will also release an Education Edition of "Paul Revere: Midnight Ride" DVD, which will include all that is on the consumer plus a discussion guide, student quizzes, classroom projects and other teaching resources. This expanded Education Edition retails for $39.95.
Initial release in the History Heroes launch, "Patrick Henry": Quest for Freedom," became one of the most honored children's DVDs of 2007 winning awards and accolades including:

A winner of a Parents' Choice Silver Award
One of Dr. Toy's Best 100 Children's Products
One of Dr. Toy's Top 10 Education Products
KIDS FIRST! endorsement
Award of Excellence from Film Advisory Board
The Family Review Platinum Award
A winner of a iParenting Media Award
Dove Foundation Approval
History's Heroes is recommended for ages eight and older. Additional titles will follow in coming months. Beginning in 2008, American Animation Studios plans to release two to four History's Heroes DVDs each year, featuring such heroes and heroines as Frederick Douglass, Teddy Roosevelt, Amelia Earhart and others.
Fun activities, profiles of American heroes and heroines, additional information about our country's history, and homework help can be found at http://www.historysheroes.com. To order History's Heroes call 1-866-401-HERO (401-4376).
About American Animation Studios
American Animation Studios was founded by Rob Mercer and John Derrick after they went searching for entertaining yet educational videos for their school-age children. Surprised by the lack of options on American history, the two dads decided to fill the need by re-creating the stories of American heroes and heroines in 3-D animation. The result is History's Heroes, a DVD series and web site for children, ages 8 and up. Along with the realism of 3-D animation, the DVDs are characterized by spoken narration, original soundtracks and the voices of professional actors -- all to enhance the learning value for classrooms and the viewing appeal for families.
# # #