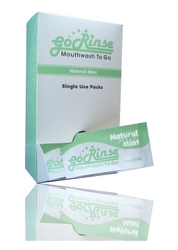 Excellent product. Great for purses, school lunches, glove box, brief case, etc.
Irvine, Calf. (PRWEB) January 14, 2008
EFE Company LLC recently redesigned its goRinse mouthwash product to enhance the taste, make it handier to carry and easier to use. The revamped product has a more streamlined packaging design, so it takes up less space in the pocket or purse. And it now comes in small single packs, instead of the larger plastic containers that were previously being used.
"Our product is unique in how it is delivered to consumers," said Ike Kavas, the founder of EFE Company. "Our natural mouthwash is packaged into small disposable packs…They are for single use -- you carry only what you want to use."
goRinse is the ideal solution for anyone wanting fresh breath without the inconvenience of having to carry around a mouthwash bottle. The mouthwash product is available in small, leak-proof packs inside a box that doubles as a handy dispenser. It can be placed in bathrooms, office break rooms, on restaurant tables and even on convenience store counters within easy reach of consumers on the go.
Besides being convenient to carry, goRinse is also very easy to use. Users simply tear open the pack, pour the mouthwash in, rinse and spit. No extra cups or other equipment is needed. This makes the product suitable for a wide variety of personal and business uses, including at the office, before a meeting, before a date, after dining out and while traveling.
"You can't always brush after every meal, coffee or snacks," Kavas said. "With our product, you can have oral hygiene anywhere, any time."
goRinse is designed to make it easier for consumers to maintain healthy oral hygiene no matter where they are. It kills 99 percent of common germs that can cause plaque, gingivitis and bad breath. Additionally, goRinse helps to refreshen the breath and helps keep gums healthy. Other benefits of the redesigned product include the fact that it is:

Made from natural mint and oil
Contains no alcohol, sugar or saccharin
Completely safe for all users, including children and the elderly
Customers are raving about the updated product. One customer said: "Excellent product. Great for purses, school lunches, glove box, brief case, etc." Another customer in Washington said, "How did I live without these things."
goRinse mouthwash is available in 30-pack and 60-pack dispensers filled with individually-wrapped packs. Customers can have the packaging customized with their logo or message in up to four colors. To learn more about the redesigned product, call Ike Kavas directly at 949-554-7622. Or visit http://www.GoRinse.com for complete details.
About EFE Company
Established May 2005, EFE Company LLC is an innovative provider of mouthwash products for people on the go. The company released its initial product under the brand name "OralRinse2Go." Now after extensive product testing and development, EFE Company has launched a new mouthwash line under goRinse. Headquartered in Irvine, Calif., EFE Company is a privately-held business that strives to make a positive impact on communities.
Contact:
Ike Kavas
949-554-7622
info@gorinse.com
http://www.GoRinse.com
###