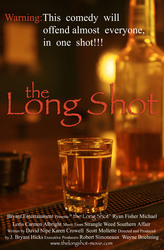 Warning: This comedy will offend almost everyone, in one shot!!!
Dallas, TX (PRWEB) January 14, 2008
Pushing the boundaries of independent movies Bryant Entertainment is proud to announce their entirely independent movie is available on DVD. Since April of 2006 the company has been busy in post production of its newest movie "the Long Shot." When asked about the delays the movies producers said, "When you have a true independent movie meaning no celebrities, no big funding, no guaranteed distribution post production items can take longer to finish. On a feature length movie with post delays most independents get frustrated and give up. When you are funding a project yourself sometimes you just have to wait a little while before the right circumstance comes along to allow you to move forward. Perseverance is key, and allowed us to find our colorist, clean up the audio, and find self distribution thru Create Space.com. With self distribution now available to Producers it is truly top to bottom start to finish an independent movie. The production utilized HD technology, and tape-less capture which in the spring of 2006 was in its infancy and definitely pushing the edge of technology especially for an independent movie. The standard definition DVD which is now for sale has in fact never been put on a tape of any kind. It went straight from the camera to a hard drive through post production, and then straight to DVD after all post work was done."
To prove their claim of one shot takes Bryant Entertainment used a secondary camera with time-stamp to record the making of the movie. Of course since "the Long Shot" was put into post other artists have made a one shot movie with limited success.
As previously reported Bryant Entertainment completed principle photography April 8, 2006 on "The Long Shot." Following six intertwining stories set in a neighborhood bar in the hour and a half before closing, The Long Shot takes an irreverent look at the goings-on of the bar's inhabitants. The poster does use the phrase "Warning: This comedy will offend almost everyone, in one shot!!!" And the producers say they will stand by it. This movie utilized local Dallas-area talent both in front and behind the camera.
The Movie can be purchesed at http://www.BuytheLongShot.com or also on Amazon.com.
For media information
movie web site is http://www.theLongShot-Movie.com
Contact
Bryant Hicks at 469.587.2100
###