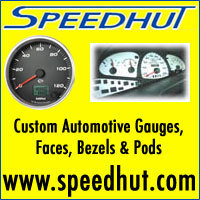 When you have a good product, good things happen.
Lindon, UT (PRWEB) January 16, 2008
(PRWEB) January 16, 2008 -- In the world of high-speed cars, racing and "pimping" rides, Speedhut is the new sheriff in town. Just one search for 'custom gauges' on Google will show you they are #1.
Speedhut, based out of Salt Lake City, Utah had initially started earning their well-deserved reputation through good old word-of-mouth. Owner, Aaron Westberg, comments, "We've worked hard to build quality boost gauges, speedometers and tachometers for years now... and it shows through our customers. We've been lucky enough to have extremely satisfied customers and they're not shy about passing on the word when their friends are looking for gauges too."
Their increase in demand isn't the only thing to skyrocket. In just months Speedhut has shot to the top of search engines for their growingly famous line of speedometers and custom gauges. Aaron states, "A big part of our success and superior product line is that we don't settle for less than perfection. Our life-time warranty means we're serious too." Competitive gauges are often made overseas and are composed of lesser-quality products. Speedhut gauges and shift lights are made right here, in the good old USA, with nothing but the best in components and most advanced technology.
Another huge advantage Speedhut has over the competition is the ability for their customers to customize their gauges. Not just a choice in color here and there... when we say "custom", we mean it. Each gauge can be custom designed using their Custom Interface. Customers will be able to select background color, choose what color it lights up at night and even add graphics and logos to gauges. So, to get "Drift King" printed on tachometer will only take a few clicks on Speedhut's website.
"The past year has been amazing for us. Demand for our custom line of gauges has increased exponentially and we have our customers to thank for that." Continues Aaron. "When you have a good product, good things happen."
Car enthusiasts can count on Speedhut to continue delivering the latest in new and innovative automotive gauges by expanding their one-of-a-kind product line. This year promises the release of new Wide Band Air Fuel gauges, GPS Speedometer gauges and a full line of metric gauges, and speedometers.
To learn more about Speedhut and their products, visit their website at http://www.speedhut.com.
For more information, please contact:
Speedhut
765 West 425 North
Lindon, Utah 84042
Phone: 801-796-1460 (10am - 5pm MST)
Fax: 801-796-1468
Search engine optimization by Affiliate Designers
###