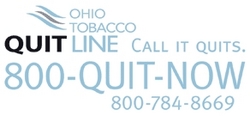 Ohio Tobacco QUIT LINE plays an important role in helping smokers and other tobacco users in Ohio quit, and we're honored to have helped an Ohioan become the one-millionth caller to 1-800-QUIT-NOW
Columbus, Ohio (PRWEB) January 14, 2008
Ohio Tobacco QUIT LINE reports an Ohioan recently helped mark an important milestone in efforts to help more than 45 million U.S. adult smokers quit by placing the one-millionth call to 1-800-QUIT-NOW -- the number to reach Ohio Tobacco QUIT LINE as well as the national, toll-free number for free help in kicking tobacco.
Since November 2004, 1-800-QUIT-NOW has routed one million callers to their respective state quit lines; including calls to Ohio Tobacco QUIT LINE. Quit lines are telephone-based services that help smokers quit through counseling, information, self-help materials and in some instances, nicotine replacement therapy.
"Ohio Tobacco QUIT LINE plays an important role in helping smokers and other tobacco users in Ohio quit, and we're honored to have helped an Ohioan become the one-millionth caller to 1-800-QUIT-NOW," said Mike Renner, Ohio Tobacco Prevention Foundation executive director.
Each year in the United States, tobacco use is responsible for one in five deaths and nearly $200 billion in health care costs and lost productivity, according to data from the Centers for Disease Control and Prevention (CDC). "The single best step that a smoker can take to protect his or her health -- and that of nonsmoking family members -- is to quit smoking," said Matthew McKenna, M.D., M.P.H., director, CDC's Office on Smoking and Health.
About Ohio Tobacco QUIT LINE
Ohio Tobacco QUIT LINE works with callers to develop an individualized quitting plan, set a quit date and help change behaviors associated with tobacco use. Callers to QUIT LINE may be eligible for free or reduced-cost patches through employer and health plan partnerships. Individuals can also schedule a call to 1-800-QUIT-NOW or visit http://www.OhioQuits.com. The website also offers additional information about QUIT LINE and its free patches program.
About the National Network of Tobacco Cessation Quitlines
The network is a remarkable partnership that began in 2004 between the states, CDC, NCI and NAQC, which consisted of grants from the CDC to the states to develop or enhance quit line services and creation of the toll-free 1-800-QUIT-NOW number to automatically transfer calls to the respective state quit lines.
Links:
http://www.ohioquits.com/
http://www.otpf.org/
http://www.otpf.org/news/news.aspx?id=20328
CONTACT:
Andrea Slesinski
614-917-1182 or 614-352-5096
###