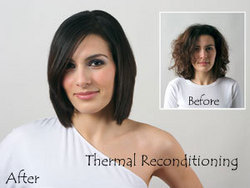 Just be sure to ask for their credentials – do they have any certifications and how often do they update their education? Also, ask to see before and after photos of their clients.
Fairfax, VA (Vocus) January 15, 2008
It's a problem all women face with their hair – wanting what they don't have. Women with fine hair want the full, thick hair of Julia Roberts. Women with thick, often course and frizzy hair, want the smooth and sleek hair of Jennifer Aniston. Quiet brunettes often long for the brilliant, boisterous red of Marcia Cross. Salon Khouri, an award winning salon located in the Northern Virginia suburb of Fairfax, VA, is performing miraculous hair transformations by answering these age-old hair wishes of women.
It was a goal of owner Jonathan Elkhouri from the start: ensure that whatever the hair wish, Salon Khouri could deliver. He then set out a path for every stylist working in the salon – get certified and master your skills. After hundreds of hours of classes, many trips to exclusive studios in New York, every stylist at Salon Khouri is certified – from Wella Master Color certifications, Liscio Thermal Reconditioning (aka, Japanese Relaxer) techniques, to SO.CAP human hair extensions, they are certified.
"We had someone who found us through our website call us," Jonathan stated, recounting a recent hair miracle. "She was in tears after having a complete disaster with an at-home color kit. The ends of her hair were almost black and the roots turned into a brassy orange color." Heidi Wheeler, a master colorist with Salon Khouri adds, "Having certified, master colorists on staff, we were able to correct the color into a gorgeous, rich auburn that she had always wanted. It takes technical knowledge to know how to fix color disasters."
Other hair transformations have included thermal reconditioning, a straightening process that uses both chemicals and heat to soften the bonds of the hair, reforming the bonds in a straight pattern. "What's great about thermal reconditioning is that you can choose the level of reconditioning," notes Liscio certified technician and master colorist Rebecca Garcia. "We can remove frizz, leaving a beautiful soft, full curl, or we can completely remove frizz and curl, resulting in hair that is extremely straight, soft and smooth."
Kristin Fletcher and Denise Viveiros, both certified in SO.CAP hair extensions, agree that extensions can truly transform a person in a matter of hours. "Extensions are not just for adding length. The majority of our clients get extensions to add volume or texture," states Denise. Kristin adds, "I think there is a misconception about extensions that it's an all-or-nothing service. We can add as few as ten to twenty pieces to give your hair added volume and thickness. Don't get me wrong, we've also transformed clients from short hair to long, beautiful hair too!" Both stylists also agree that hair extensions have come a long way in the last decade, pointing out that SO.CAP extensions are 100% human hair that is bonded to clients' hair through a natural, keratin bonding process. The keratin is a natural protein, so when it is bonded to the hair, the results are a safe extension system that creates spectacular, natural-looking results without any damage to existing hair.
Jonathan is happy that his salon is transforming client's looks. "It's great to see a client's eyes light up when they see themselves in the mirror at the end of their service. You see a change in their personal confidence from the time they came in to the time they leave." His advice for those seeking major change from their stylist, "Just be sure to ask for their credentials – do they have any certifications and how often do they update their education? Also, ask to see before and after photos of their clients."
About Salon Khouri:
Salon Khouri is a full-service hair salon offering cutting, color correction, extensions, thermal reconditioning, highlights, block color techniques, as well as a full menu of waxing services. A full menu of services, including prices, is available on the salon website.
###